Over 250 dairy judges and their coaches converged on the Hoard's Dairyman Farm this morning. Two Guernsey cow classes were presented to the contestants in preparation of Monday's national dairy judging contests. The editorial team halter-broke, washed and presented the cattle.
While no official class placings were given, it provides an opportunity for the teams to see top quality dairy cows from five of the major breeds over a two-day span. Classes are placed and then their results are shared with their teammates and coaches for discussion.
Besides the Hoard's Dairyman Farm, the youth evaluated Holsteins at Ocean-View Genetics, Jerseys at Nehls Valley Farm, Brown Swiss at Cozy Nook Farm, and Milking Shorthorns at Mapleton Valley Farm. All farms are located fairly close to the Madison area.
In addition to seeing farms, the teams visited the National Dairy Shrine Museum, toured Nasco in Fort Atkinson, and were treated to a pasta lunch sponsored by Nasco and Hoard's Dairyman.
Enjoy a few photos from our early morning leading sessions, this morning's preparations, the parading of cattle and a few candids of the contestants.
Follow our Facbook page on Monday night as the
Hoard's Dairyman
editorial team simultaneously post all three judging contest results to our page as they are announced. Feel free to like, comment and share your excitement for your home teams.
---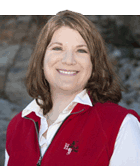 The author is the online media manager and is responsible for the website, webinars and social media. A graduate of Modesto Junior College and Fresno State, she was raised on a California dairy and frequently blogs on youth programs and consumer issues.