College, as we all know, can certainly cause financial stress on a family. Especially to those who grew up on a small dairy farm such as myself. However, there are ways to make this financial burden more affordable. Scholarships can play a key role when it comes to financing one's education, and the list of dairy scholarships that are available for students to utilize continues to grow.
As a full-time college student, I have experienced firsthand the headaches that go into budgeting for your next semester. I will confess that I have eaten those thrifty packages of instant ramen noodles a time or two, and I would be embarrassed to tell you how many times I have Googled, "Ways to save money in college." But all of the articles that I have read have basically said the same thing.
Apply for scholarships.
And that is where being a dairy farmer, once again, has its advantages.
As I began my search for scholarships, I always made sure to highlight my dairy background, even if the scholarship was not dairy related. I would list some of the chores that I perform each day on the farm, what life lessons dairy farming has taught me over the years, and how I planned to stay within the dairy industry in the future.
Scholarship committees are constantly searching for college students who possess a strong work ethic, who are passionate about their field of study, and what makes them unique compared to other applicants. Today's young dairy farmers have the upper hand when applying for scholarships because their hands-on work ethic is rare in today's society and is readily recognized by scholarship committees.
A list of college scholarships can be found on the
Hoard's Dairyman Youth page.
---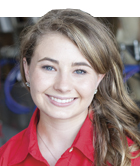 Taylor Leach grew up on her family's dairy farm in Linwood, Kansas. Leach graduated with an associate's degree from Kansas City Kansas Community College and now attends Oklahoma State University, majoring in animal science and agriculture communications. On campus, she is a member of the dairy club and also works on the university's dairy farm. Leach will be serving as the 2016 Hoard's Dairyman summer editorial intern.