Stepping in unison, circling the ring. One partner wears white, while the other wears spots. Heads are up, tails are fluffed, and all eyes are on the judge.
Although I was kicked out of dance school at the young age of three (I had this excessive need to do summersaults instead of dance), I would still consider myself to be a professional dancer. I've always had a love for this special dance they called showmanship. It was something that I took pride in, something that I could train for instead of breed for. I did not need to own a first place quality animal to win showmanship. It was all about who presented, or danced, with their animal the best.
Similar to professional dancers, experienced showmen develop their own style of showing while in the ring. This is encouraged, as it helps the showman stand out from the competition. The best dancers, like showmen, are smooth, precise, and pay attention to the little details. Some judges prefer one style versus another, but the PDCA (Purebred Dairy Cattle Association) showmanship standards are set in place to make sure that everyone is dancing to the same tune.
The PDCA revamped its Showmanship Evaluation Scorecard in 2012 by setting new guidelines for young leadsmen to follow. The changes were made in an attempt to level out the playing field for competitors. But how level is that playing field when judges do not always abide by the same rules?
Like other showman, I have been in the situation where the rules may say one thing but the judge says another. Judges are certainly allowed to have their own preferences, but the PDCA scorecard should be used as a guideline to help judges base their final decision. All showmanship judges should use the PDCA guidelines not only to help make the competition fair, but to also eliminate confusion among young exhibitors, parents, and project leaders.
The showring may not look like a dance floor, but it serves the same purpose. Make sure that you know all the right moves this show season, whether you are leading an animal or serving as a judge.
PDCA guidelines and further information can be found in our
youth resources section.
---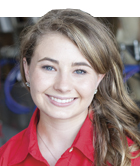 Taylor Leach grew up on her family's dairy farm in Linwood, Kansas. Leach graduated with an associate's degree from Kansas City Kansas Community College and now attends Oklahoma State University, majoring in animal science and agriculture communications. On campus, she is a member of the dairy club and also works on the university's dairy farm. Leach will be serving as the 2016 Hoard's Dairyman summer editorial intern.