Just like every good book, the story must come to an end. My story was only 12 chapters long, one for each week during my internship here at
Hoard's Dairyman
, but I am proud to say that it is one of those books that have a happy ending. Although my internship is coming to a close, my story will continue on even after the last page is turned.
Interns: Sydney Sleep, Hay & Forage Grower; Taylor Leach, Hoard's Dairyman; and Carly Weiss, art department.
My story began May 16, when I first arrived in Fort Atkinson, Wis. I made the nine-hour journey from Kansas to America's Dairyland and organized my things for my first day of work. I was nervous, but I knew that I was in good hands and that the summer would be a memorable one.
I was right. It was a summer that I will never forget.
During my first few weeks at
Hoard's Dairyman
, I was exposed to new ideas, methods of dairying, and true Wisconsin living. I originally thought that I knew a lot about the dairy industry, but my eyes were opened to so many new things, and I quickly began to absorb as much knowledge as I could.
I had the chance to visit several farms throughout my internship, some in Wisconsin and some out of the state, and was able to communicate with producers about various topics. Some of the conversations that I had with these producers sparked new thoughts, and I was able to discuss my ideas with some of the best leaders in the industry.
Outside of my internship, I was able to participate in other activities such as dairy promotional events, dairy breakfasts, as well as helping dairy youth. Each weekend, I embarked on a new journey to explore different areas of Wisconsin, which was vastly different from the Kansas and Oklahoma scenery that I was used to.
So many doors of opportunity were opened for me during my summer at Hoard's Dairyman, and I am forever thankful for the friendships, memories, and experiences that I was able to partake in during my short stay. While it is bittersweet that I am reaching the last few pages of my book, my story is not over. I look forward to continue writing stories for Hoard's Dairyman, and I am excited to see what the future holds in store for me. As one story comes to an end, another is just beginning.
---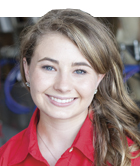 Taylor Leach grew up on her family's dairy farm in Linwood, Kansas. Leach graduated with an associate's degree from Kansas City Kansas Community College and now attends Oklahoma State University, majoring in animal science and agriculture communications. On campus, she is a member of the dairy club and also works on the university's dairy farm. Leach was the 2016 Hoard's Dairyman summer editorial intern.