On October 25, the American Guernsey Association appraiser stopped by the Hoard Farm to score the Guernseys. Here are a few highlights from that day: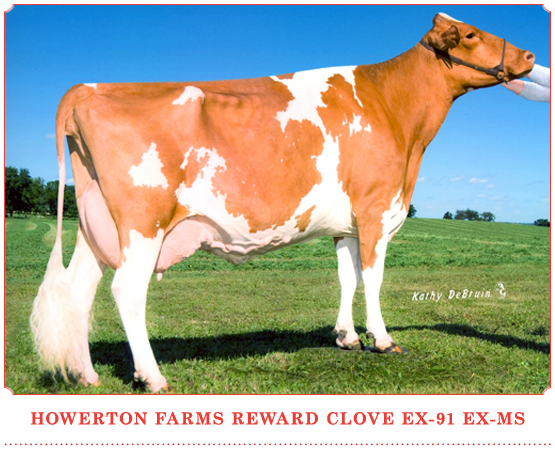 • Howerton Farms Reward Clove (shown above) went EX-90 with an EX-91 udder and a VG-87 foot and leg after completing a 2-year-old record of 19,955 5.2 1,039 F 3.8 766 P in 365 days. Clove had a Challenge daughter when she calved this year.
For more on Clove, click here!
• Rolling Prairie Dee Pony, a Four Winds Deemand-ET daughter, went EX-90. She made a 4-5 record of 301 days 21,217 M 4.7 1,009 F 3.6 773 P.
• Dairyman Hershey Rainbow went VG-89 with a VG-88 udder and an EX-90 feet and legs. Incredibly, Raninbow's second and third dam, EX-90 and EX-91 are still in the herd. The EX-90 Goliath granddam calved for the 10th time on September 27.
To learn more about Rainbow, click here.
• A second-lactation cow, Sunset Farms JB Samantha, went VG-89. She made a 2-2 record of 365 days 19,263 M 5.2 1,033 F 3.6 715 P.
Eight other cows went either VG-88 or VG-87. In that group was an eighth-lactation cow that is the second oldest homebred cow on the farm, Dairyman Luxury Dolly and a seventh-lactation cow, RF-Stockwell Farm Cammie that went VG-87.
More results from classification day will be posted in a few weeks once we get all the data entered into our computer system.
Visit the Hoard's Dairyman Farm website.