Guernseys were the foundational breed of the Hoard's Dairyman herd when the farm was started by W.D. Hoard in 1899. More than a century later, in 2009, Jerseys were added to the herd, and they have been a great fit ever since. Today, we are milking a herd of approximately one-third Jerseys and two-thirds Guernseys.
In 2018, the Hoard's Dairyman Jerseys performed very well, according to new production data released by the American Jersey Cattle Association (AJCA). For herds with 80 to 149 records, the Hoard's Dairyman Farm ranked second in terms of fat output, producing 1,015 pounds per cow. The herd was fourth for protein production, at 758 pounds per cow. We were also fourth for milk production, with 19,812 pounds per cow. The top herd in the nation, D&D Jerseys from Newton, Wis., produced 23,625 pounds per cow.
The AJCA also ranks herds on a mature equivalent (M.E.) basis, which means they assume production levels as if all cows were mature in age and milked twice a day for a 305-day lactation. On an M.E. basis, the Hoard's Dairyman Farm ranked first in both fat and protein production. Each cow made, on average, 1,184 pounds of fat and 891 pounds of protein. That level of protein placed the Hoard's Dairyman Farm as fifth in the nation for M.E. protein production among herds of all sizes.
In terms of milk production, the Hoard's Jerseys ranked fourth in the nation for farms our size, coming in at 22,992 pounds of M.E. milk. The official breed lactation average for M.E. milk in 2018 was 20,041 pounds, with 977 pounds of fat and 741 pounds of protein.
When evaluating herds for cheese yield (on an M.E. basis), the Hoard's Dairyman Farm was fifth in the nation. Each cow in our herd produced enough milk and components to make 3,045 pounds of cheese in 2018. On an actual milk production basis, the herd ranked tenth overall at 2,596 pounds.
AJCA reported a modest drop in overall production among Jersey cows (less than one percent for all production measures) for the first time in a dozen years. However, cheese yield per hundredweight of Jersey milk rose slightly, meaning the milk is more nutrient dense. Over the past decade, the association reported that the amount of a cheese processor can make from one hundred pounds of Jersey milk has risen from 12.15 pounds in 2009 to 12.58 pounds in 2018.
---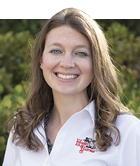 Abby Bauer
The author is an associate editor and covers animal health, dairy housing and equipment, and nutrient management. She grew up on a dairy farm near Plymouth, Wis., and previously served as a University of Wisconsin agricultural extension agent. She received a master's degree from North Carolina State University and a bachelor's from University of Wisconsin-Madison.