Leading the field in three breeds and placing second in a fourth breed was enough to wrap up the post-secondary judging contest for Rachel Ekkel, a student at Michigan State Ag Tech. She paired those breed wins with contest topping scores in both the reasons and placings-only categories.
Ekkel's 763 (47.7 point contest average) bested second place Aaron Houdek from Northeast Iowa Community College (NICC) by eight points. Rounding out the top five were Carley Vinkemeier, NICC; Tucker Peterson, Kaskaskia; and Steven Nelson, Kaskaskia.
The individual reasons category was decided on a tie-breaker with individual champion Ekkel edging Kaskaskia College's Steven Nelson. The pair averaged 47.75 points in the reasons room dropping only nine points on four reasons classes.
With all four team members placing in the top 10, Northeast Iowa Community College triumphed in the Post-Secondary contest. Pictured from left to right are coach Megan Kregel, Carley Vinkemeier, Ellis Frank, Aaron Houdek, Chelsey Jensen, and coach Dave Lawstuen.
In the team contest, it was the collective efforts of the NICC team that pulled off the victory by a commendable 34 points. Tallying 2,233 points (46.5 average), the team scored all four judges in the top 10 overall individually. Aaron Houdek and Carley Vinkemeier placed second and third, respectively while teammates Ellis Frank placed sixth and Chelsey Jensen ranked tenth.
The team from Kaskaskia College also completed a nice day placing three in the top 10 and registering a top team placing in reasons with an average reasons score of 46 points. In third, was the team from Michigan State Ag Tech while Highland Community College and SUNY Cobleskill rounded out the top five teams.
NICC also dominated the practical contest, which is open to all college teams and held on Sunday. Led by individual practical contest champion, Carley Vickemeier, the team scored a solid 628 points to outpace second-place Fox Valley Tech by 29 points. UW-Platteville finished in third, and SUNY Cobleskill notched a fourth-place finish.
Individually, Vickemeier edged Fox Valley Tech's Kelvin Arnold by one point to win the contest with a 159. Additional high individuals were Ohio State-ATI's Adam Miley in third; Fox Valley Tech's Macala Ellis in fourth; and Liz Berstler from Ohio State-ATI rounding out the top five.
---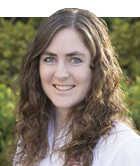 The author is an associate editor. She covers feeding and nutrition, youth activities and heads up the World Dairy Expo Supplement. Maggie was raised on a 150-cow dairy near Valley Center, Kansas, and graduated from Kansas State University with degrees in agricultural communications and animal sciences.