After a memorable 50 years of World Dairy Expo, a new display featuring some of the most historic photos, banners, and trophies line the walls in the upper half of New Holland Pavilion barn one.
The display, which celebrates some of the most iconic moments of World Dairy Expo history, was presented to the public and allows attendants to experience pieces of Expo from 1967 to present day. The timeline effect of the display lets visitors travel through time back to the early years of Expo's beginning.
As one enters the display area, they are greeted with some of the most recent history from World Dairy Expo. Iconic pictures from the showring of famous cows and individuals line the walls of the display, most with a brief historic description of the event.
Visitors from across the world have passed through the exhibit pointing out some of their favorite memories over the years. For many, it has brought up old stories from Expo's past and has allowed them to talk about the changes that have occurred during the past half-century.
Trophies from years before are also on display as exhibitors from both past and present marvel over their beauty. As attendants make their way through the display, conversations starting with "Remember when" can be heard as they share some of their favorite Expo memories.
Even those who have never been to World Dairy Expo before can appreciate the museum effect of the display.
"This is my first World Dairy Expo, and this is outstanding!" said Savannah Fredrick, Ontario. Fredrick and her husband have been planning their first trip to World Dairy Expo for months and were mesmerized by historic display.
The couple sat in the "theater" section of the display, watching the short video which covered some of World Dairy Expo's most memorable moments. The video highlights moments such as the beginning of milk testing cattle to the introduction of the first fitting contest.
Once visitors made their way through the display, whispers of appraisal could be heard as they continued on to the cattle barns to partake in some of the history that will be made this week.
---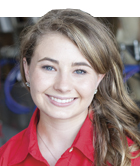 Taylor Leach
Taylor Leach grew up on her family's dairy farm in Linwood, Kansas. Leach graduated with an associate's degree from Kansas City Kansas Community College and now attends Oklahoma State University, majoring in animal science and agriculture communications. On campus, she is a member of the dairy club and also works on the university's dairy farm. Leach was the 2016 Hoard's Dairyman summer editorial intern.