Judge Chris Hill could not help but show his excitement as he reached out to tap Brown Heaven Glenn Fantasy on the head as the winning Aged Cow at the International Brown Swiss Show. After sorting through an impressive 371 animals, Judge Hill made sure to get the crowd as excited as he was as he chose his overall winner. Fantasy, no stranger to winning at Expo, is owned by Ferme Brown Heaven of Vercheres, Québec.
Like a star athlete, Fantasy knows how to work her way around the ring with style and grace. Just last year, she was gearing up to win her first Grand Champion title at World Dairy Expo. Without missing a beat, Fantasy took away Grand Champion honors for the second year in a row at this prestigious show
Meanwhile, Cutting Edge T Delilah, the winning Senior 3-Year-Old, was presented with the Reserve Grand Champion honors as well as Grand Champion of the Junior Show. The Intermediate Champion of both the Open and Junior shows is owned by Kyle Barton of Ancramdale, N.Y.
Like Fantasy, Delilah is also no stranger to Grand Champion honors. In 2015, she and Barton took home the Grand Champion title, and they will both be walking underneath the spotlight for the second time at the Supreme Champion of the Junior Show.
In the Heifer Show, North Lane Braid Present-ET, owned by Leslie and Linda Bruchey of Westminster, Md., was named Junior Champion and was the winner of the Winter Yearling Heifer class. Top Acres Braiden Wiza-ET was named Reserve Junior Champion and is owned by Lindsey Rucks of Okeechobee, Fla.
Meanwhile in the Junior Show, Blue Diamond Parker Gia-Et, owned by Elisabeth and Elise Regusci of Modesto, Calif., took home the Junior Champion honors. She was also the winning Spring Heifer, which was the largest class of the day. The first Fall Heifer, Siegerts Braiden Sheena, owned by Coltin, Claytin, Mady, and Morgan Wingert of Harmony, Minn., was named Reserve Junior Champion.
Premier Breeder and Premier Exhibitor honors went to Ken Main and Peter Vail of Copake N.Y.
Youth Show Champions
---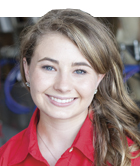 Taylor Leach
Taylor Leach grew up on her family's dairy farm in Linwood, Kansas. Leach graduated with an associate's degree from Kansas City Kansas Community College and now attends Oklahoma State University, majoring in animal science and agriculture communications. On campus, she is a member of the dairy club and also works on the university's dairy farm. Leach was the 2016 Hoard's Dairyman summer editorial intern.