As one walks through the cattle barns at World Dairy Expo, it is hard to miss the creative displays that exhibitors have built to celebrate the past 50 years. Over the past half century, it has become a tradition for exhibitors to build elaborate exhibits highlighting their herd and representing the theme of Expo. With this year's theme being one of the most memorable yet, exhibitors have dusted off their banners and trophies from years past to put on display for World Dairy Expo's 50th birthday.
Favorite memories forever captured in photographs hang throughout the cattle exhibits, usually with a constant stream of people shuffling by to take a look. Some exhibits touch on the evolution of the show, while other's feature special moments that have occurred over the years at Expo.
One popular stop throughout the barns is at the Voegeli Farm display.
Voegeli Farms Display
The display features dozens of banners, medals, and trophies, along with show shirts worn by Howard Voegeli himself, one of the founders of World Dairy Expo. The Brown Swiss herd took the dust off their memorabilia stored in their attic in preparation for the show.
Another crowd favorite has been the Gil-Bar Jersey and Ma-Brown string, as it brings life to former World Dairy Expo artifacts.
Gil-Bar Display
Angela Davis-Brown, Dodgeville, Wis., explained just how much work went into building the display. "We tried to stay true to the theme," Angela said. "This is only one-fourth of the stuff." Other pieces of Gil-Bar history can be found at the 50th World Dairy Expo display.
Random Luck Display
The Random-Luck string took a unique approach this year by showing off the evolution of clippers. Clippers from the early years of cattle shows to present day can be found in their exhibit along with precious family photographs.
Smith-Crest Display and Majestic View Genetics
Lastly, Smith-Crest Holsteins and Majestic View Genetics bring back to life the former days of showing bulls. One tent stands out above the rest, as it displays a black-and-white photo of a Holstein bull being shown. Many crowd goers stop in their tracks once they set their eyes upon the life-size bull.
As you walk around the cattle barns at World Dairy Expo, what is your favorite display?
---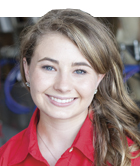 Taylor Leach
Taylor Leach grew up on her family's dairy farm in Linwood, Kansas. Leach graduated with an associate's degree from Kansas City Kansas Community College and now attends Oklahoma State University, majoring in animal science and agriculture communications. On campus, she is a member of the dairy club and also works on the university's dairy farm. Leach was the 2016 Hoard's Dairyman summer editorial intern.