Have you ever thought how emerging technologies will affect agriculture in the long run to optimize management and profitability? We have seen the implementation of robotic milking machines, brushes for added cow comfort, and automatic calf feeders on dairy farms across the country and world. But, imagine a data system that monitors your cows' activities 24 hours a day, 7 days a week from lameness and estrous detection to dry matter intake (DMI). With a new technology that recognizes each cow in the barn, this dairy farmer's dream becomes a reality.
During the California State Holstein Convention in January, Robin Johnston, co-owner of the cow facial recognition system, explained how his company's technology works. In addition, he described how the system is operating on Maddox Dairy.
Cainthus is the technology company that created the cow facial recognition system that monitors cattle via cameras located on the roof of the barn. The data is then sent to a server on the farm. The main goals are to utilize the data to maximize production and limit stress levels on the cows.
There are many uses for the artificial intelligence system that can be customized for the dairy farm's needs. For example, the system detected that the cows at Maddox Dairy are eating three to four hours a day. Steve Maddox commented on how he has already adjusted his herd's feed rations and dairy tour routes based on this information. In addition, limiting pen moves for cattle helps keep feed intake consistent across the herd. Maddox Dairy installed the system in the fall of 2016 and sees the system as a success.
Currently, the technology has only been developed for Holsteins, but Jerseys are next. The Holstein cows are differentiated from one another by the computer memorizing coat pattern and the markings on their face. Facial recognition for Jerseys in the future may use head shape or ear tag position.
This system is just one example of hundreds of new tools that dairy farms are using to adapt to this technological era and ultimately improve their operations.
---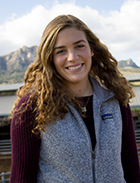 Elise Regusci grew up on her family's farm in Modesto, Calif. Regusci attends Cal Poly University, majoring in dairy science with an agricultural communication minor. On campus, she is the Los Lecheros Dairy Club Ag Council representative and a member of the Cal Poly dairy judging team. Regusci is the current Brown Swiss Youth Ambassador and will be the 2017 Hoard's Dairyman summer editorial intern.