All winter we analyze our calves in anticipation for the next show season. Are they big enough? Are they good enough? The question I always seem to ask myself as spring approaches: Are they going to lead in the ring? Many years of having stubborn heifers in the showring has led me to put extra effort into my training regime. (Thank you to my family at home for helping when I am at school!)
After over a decade of showing, I have learned that the excitement leading up to the first show of the year is unlike anything else. The sadness of walking out of the ring at the end of the show season in the fall is quickly forgotten when spring rolls around. Those who have the opportunity to show their cattle fall in love with the friendships, fellowship, rewards, and joys exhibiting at shows bring.
Just as there is preparation for the first game of the season in sports, many hours of practice go into the first cow show of the year. Washing, walking, clipping, and training are all activities included in the preparation. These hours spent in the barn build character and confidence in youth. I credit my childhood spent at the shows for instilling a passion for the dairy industry as well.
Competition starts out strong with the first show and continues for months. Those who win at the first show may not necessarily be the ones at the top later in the year. The friendly competition and rivalry drives people to dedicate time and effort into the little details of fine-tuning their show string.
When the weather warms up, the flowers will be blooming and showrings will be full of showmen, young and old, working their way to the top of their respective classes. And just like that, another show season has begun!
---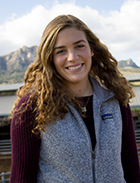 Elise Regusci grew up on her family's farm in Modesto, Calif. Regusci attends Cal Poly University, majoring in dairy science with an agricultural communication minor. On campus, she is the Los Lecheros Dairy Club Ag Council representative and a member of the Cal Poly dairy judging team. Regusci is the current Brown Swiss Youth Ambassador and will be the 2017 Hoard's Dairyman summer editorial intern.