From the East Coast to the West Coast, I have had the opportunity to tour several dairy farms and expand my knowledge of the dairy industry simply by spending an hour observing an operation. My involvement with national breed associations and competing on a collegiate dairy judging team have made this possible. I have learned about the differences and similarities of how small and large farms manage their herds. In addition, the strong influence of technologies such as robotic milking machines can be seen by visiting herds across the nation.
One of the most memorable dairy farms I toured a few summers ago was River Valley Farm in Tremont, Ill. Not only does River Valley have superior Jersey genetics but the robotic systems were an amazing technology to see. This was the first time I had seen robotic milking systems, robotic calf feeders, and automated cow comfort brushes on a dairy farm. By attending a National Brown Swiss Convention in Illinois, I had the chance to learn about the robotic technology by watching the procedure take place up close.
Another aspect of touring farms is learning how the farm runs on a day-to-day basis. Even the smallest techniques that one farm implements can easily be added to your own operation. In addition, learning about different breeds and seeing some of the best cows through judging practices has sharpened my eye for cattle.
Allowing people to visit your farm can be intimidating, but sharing management styles and genetic wisdom is a great opportunity. Having those insightful conversations is valuable for all involved in the industry to establish connections with other producers. Touring dairy farms nationwide, whether they milk 20 or 2,000 cows, has not only taught me valuable career skills, but I have developed a greater appreciation for the hardworking, compassionate individuals that make up the U.S. dairy industry. Tour another farm, the experience is rewarding!
---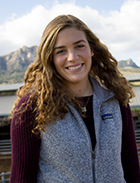 Elise Regusci
Elise Regusci grew up on her family's farm in Modesto, Calif. Regusci attends Cal Poly University, majoring in dairy science with an agricultural communication minor. On campus, she is the Los Lecheros Dairy Club Ag Council representative and a member of the Cal Poly dairy judging team. Regusci is the current Brown Swiss Youth Ambassador and will be the 2017 Hoard's Dairyman summer editorial intern.