Fourteen grams of protein and satisfies my sweet tooth? Count me in! Yogurt is one of my favorite foods and preferred dairy product because of its great taste and high nutritional value. It is an easy snack to grab on the go when I am rushing out the door to class.
Choices
Shopping for yogurt provides many options to suit all flavor profiles. When I look down the yogurt aisle, there are almost too many flavors to count! More variety means more options to fit the consumer's requests. Yogurt filled with fruit, almonds, and even candy are commonly found in different brands of yogurt. Drinkable yogurt is also a popular choice as it is great for on the go lifestyles.
Health benefit
Active cultures that are found in yogurt help regulate the body's digestive system. Instead of taking additional supplements, this food already has them. Lactobacillus bulgaricus and Streptococcus thermophilus are two common cultures found in yogurt.
Consuming yogurt helps me get to my 3-a-day dairy goal without breaking a sweat. The cashier at the grocery store might think I am buying enough yogurt for my entire family, but a yogurt a day is just my style. I encourage you to try a new type of yogurt and incorporate this into your diet. Whether it is Greek style or cherry flavored (or both!), I'm sure a new yogurt variety or flavor will catch your attention the next time you are shopping for this dairy product!
---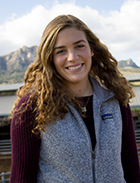 Elise Regusci grew up on her family's farm in Modesto, Calif. Regusci attends Cal Poly University, majoring in dairy science with an agricultural communication minor. On campus, she is the Los Lecheros Dairy Club Ag Council representative and a member of the Cal Poly dairy judging team. Regusci is the current Brown Swiss Youth Ambassador and will be the 2017 Hoard's Dairyman summer editorial intern.