With each county fair, with each 4-H project, there are lessons learned . . . both for my children and for me.
This year's county fair was no different. We just wrapped up five days of fun and chaos. We are all exhausted, but I can still appreciate this year's important life lessons:
1. Trust your kids to make their own decisions.
We had a crossbred heifer calf born this winter. Her name is Whoops. (The whole story of her existence is pretty good . . . you can read it here. My son Dan fell in love with Whoops immediately and proclaimed his interest in showing her at the fair.
Despite being a ridiculously cute calf, Whoops went through a gangly-looking stage right about the time identification affidavits were due for 4-H.
Glen and I weren't so sure that Dan should show Whoops. I don't think we're the only parents who want our kids to be successful in the showring, so we tried to convince Dan to consider other calves.
Thankfully, Dan insisted on showing Whoops. And, in the end, I decided that it was OK to let our kids make their own decisions about which animals to show. Showing cattle is supposed to be about learning and having fun, not necessarily winning. So I registered Whoops along with Dan's other heifers and calves.
By county fair time, Whoops was looking a lot sharper. After clipping off her winter fuzz, she looked even better. The judges agreed. During both our 4-H show and Open Class show, the judges pulled Dan and Whoops out for honorable mention in the junior championship lineup.
Glen shook his head in disbelief, and I was silently thankful for trusting my children to make their own decisions.
2. A red ribbon is all what you make of it.
Dan's entry in the 4-H poultry show . . . a breeding pen of black silkie bantam chickens . . . didn't go as well as we hoped. The judge said the birds themselves were high-quality chickens, but they weren't properly matched. Dan got a red ribbon.
I watched from the stands and wondered about how Dan would respond to the red ribbon. This was his first year showing poultry. I figured the red ribbon could do one of two things: discourage him from showing chickens again or motivate him to improve for next year.
He came out of the ring with his chickens and said, "Mom, next year I need to make sure I have a better match."
I breathed a sigh of relief and felt my heart surged with pride.
One of the lessons showing animals teaches kids is resiliency. When the show doesn't go the way you want it to, you put your chin up and look for ways to do better next year.
---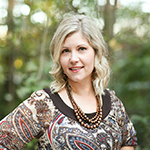 The author is a dairy farmer and writer from central Minnesota. She farms with her husband, Glen, and their three children. Sadie grew up on a dairy farm in northern Minnesota and graduated from the University of Minnesota with a degree in agricultural communications and marketing. She also blogs at Dairy Good Life.