"It was the blizzard of '88. I couldn't see my hand a foot in front of my face. We had to walk to school through chest deep snow, uphill both ways."
We all have a natural disaster story. Fine, maybe that's not mine. Mine happened in high school when torrential rains caused the most ridiculous flash flooding we had ever seen. Five minutes after the rain ended we had multiple phone calls from relatives who lived on both sides of the farm that the road was impassable and their houses were under water. My family and I spent the next seven hours driving heavy equipment up and down the road to help stop the impromptu rivers and save neighbors' homes from being destroyed by several feet of floodwater.
I realize that my story isn't a grand one. No animals or people were harmed, thank goodness, and I don't think anyone was emotionally scarred, but it's my natural disaster story. Right now, people all over the country are living theirs, and it's heartbreaking. Massive floods in Texas, a hurricane ripping across Florida, and wildfires literally burning Montana off the map are making me grateful for my pitiful little story.
The mainstream media seems to be completely oblivious to the farmers and their animals affected by these tragedies, but my Facebook newsfeed has been filled with them. There are one-hundred-year-old barns backlit by flames thrice as high as they are as well as herds of beef cattle being coaxed through flood waters via tractors and jet skis while having to eat hay off boats and rafts. I've seen photo after photo of farmers and their employees, who have willingly chosen to stay in the path of Hurricane Irma to help care for the animals they love – preparing for the worst in southern Florida.
Do you know what we're actually seeing? Passion. Dedication. Perseverance. We're witnessing these farmers staring Mother Nature in the eye and saying, "Not today."
Today they survive. Today we all pray for our families and friends and hope that things will be better soon. But tomorrow, tomorrow we will rally. Tomorrow we will offer what help we can because that's what neighbors do, and in agriculture the word neighbor isn't limited by geography. Today you will weather this storm, but know that tomorrow we'll all be here praying that you still are, too.
---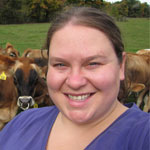 The author dairies in partnership with her parents and brother at Spruce Row Farm in Pennsylvania. Jessica is a graduate of Pennsylvania State University, and since 2015, she has been active in promoting dairy in her local community. You can find her and her 250 Jersey cows on Facebook at Spruce Row Dairy or on Instagram at @seejessfarm.