If World Dairy Expo is where the dairy industry meets, then just down the road from the grounds is where the 4-H dairy world meets. From Sunday to Wednesday, the best and the brightest of 4-H dairy members gather at the National 4-H Dairy Conference held in downtown Madison.
Youth from all across the country gather to share ideas, learn about the industry, and make meaningful connections.
During her welcome speech at the 63rd national conference, Youth Planning Committee member and Washington 4-H representative, Anna Teachman, summarized the experience and shared her advice for this year's attendees. She said 4-Hers should embrace the opportunity to meet people but also to consider their future careers.
Fellow Youth Planning Committee Member John Mark Huff from Mississippi told the 4-Hers to be themselves and embrace the chance during the week to meet new people and learn new things.
National 4-H Dairy Conference visited Fort Atkinson on Monday, and Hoard's Dairyman was honored to show them around our offices and farm. The video above shows just a few candid images from their stop. While in town, they also toured Nasco and the National Dairy Shrine.
Tuesday the conference will feature tours of technology-forward dairies while Wednesday, attendees will attend seminars on pertinent dairy topics and get to spend the afternoon at World Dairy Expo. If you're interested in learning more about the conference visit www.national4hdairyconference.org.
---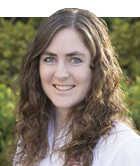 The author is an associate editor. She covers feeding and nutrition, youth activities and heads up the World Dairy Expo Supplement. Maggie was raised on a 150-cow dairy near Valley Center, Kansas, and graduated from Kansas State University with degrees in agricultural communications and animal sciences.