Amanda Wollin and her former intern Elizabeth Sarbacker
both celebrate their birthdays at World Dairy Expo each year
I didn't get to attend my first World Dairy Expo until I was in high school, so for many years, I didn't know what it meant to celebrate my birthday at Expo. Don't worry, since that time I have more than made up for it as my birthday falls on October 4 — an ideal date to nearly always ensure an Expo birthday. I've celebrated all sorts of ways from working in the booth all day to watching the show to my favorite memory, being sung Happy Birthday to by 200 National 4-H Conference attendees.
My coworker Amanda Wollin also celebrates an Expo birthday, and that got us to thinking . . . how many people have Expo birthdays and what's the best way to observe them?
For Amanda, who turns the big 4-0 on October 8, it doesn't matter what Expo activities she participates in, but rather it's the people she spends it with that matter to her. "My favorite part about having an Expo birthday is, of course, seeing colleagues and friends in the industry and sharing the day with them," she said.
For 11-year-old Campbell Booth, birthdays at Expo are all she's known. She's celebrated nearly every birthday at the show. Last year, she got to celebrate by winning Junior Champion of the Junior Red and White Show with Booth-Haven Lady In-Red-ET. That by far was her favorite birthday present!
This year she got to spend the day in the ring with her heifer Alayna and later enjoyed a cake with her family.
Campbell Booth with Alayna

Much like Campbell, Elizabeth Sarbacker's favorite Expo birthday memory occurred on the colored shavings when her Junior 2-year-old cow Fischerdale Damion Reality won her class and was Reserve Intermediate Champion.
For those of us with birthdays during the first week of October, no matter what we are doing it will always be a special treat to celebrate with all our friends at Expo.
---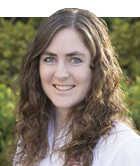 The author is an associate editor. She covers feeding and nutrition, youth activities and heads up the World Dairy Expo Supplement. Maggie was raised on a 150-cow dairy near Valley Center, Kansas, and graduated from Kansas State University with degrees in agricultural communications and animal sciences.