The October webinar focused on the feed and forage outlook, both from a production and cost standpoint.
University of Illinois' Mike Hutjens kicked off the webinar with a trend overview. The price of milk has remained steady throughout the past few months. Some milk cooperatives have imposed milk quotas, which limit production, and may account for the steadier milk prices. Weather has also caused a few blips on the radar, with hurricanes in the South and drought conditions in parts of the Upper Plains.
USDA's average predictions are to be 169 bushels per acre for corn and 49 bushels for soybeans. Of course, certain acres will exceed these averages.
Mike Rankin, managing editor of Hay & Forage Grower magazine, then discussed the forage outlook.
The price of alfalfa typically rises in the spring, with May as the highpoint. It gradually decreases as inventories build. However with the erratic weather this year, finding enough high-quality alfalfa may be an issue.
Another factor driving price is exports. China and Japan continue to want North American alfalfa. The west coast states are great for alfalfa production and have close proximity to several shipping ports. Exports are up 20 percent over last year.
Winterkill, excessive rainfall, the end of California's drought, higher (not high) milk prices, and solid inventories all contributed to alfalfa prices.
With unusual weather patterns, it seemed that August and September flipped on the calendar. However, it was the unseasonably warmer September that probably saved the corn crop in the Midwest and Northeast. There was a lot of ugly corn this year due to widespread wet weather. Fields ran out of nitrogen, resulting in a short, yellow crop with reduced yields.
When weather can go either way, the decision of when to cut hay is always a tough one. Should I wait? Will it rain? Few get it right every time, but that decision should not be taken lightly. Cut hay that gets rained on can suffer reduced forage quality. There is the loss of soluble carbohydrates, a drop in energy, potential for mold and mycotoxins, higher ash content due additional attempts to dry the hay, and yield loss.
California dairies report alfalfa usage on farm. The typical Holstein in California now consumes about 7 pounds of dry alfalfa as compared to 9 pounds a few years ago.
Hutjens suggests purchasing corn silage on a dry matter basis, and aiming for a cost of 6 cents per pound of dry matter with 30 percent starch.
Mycotoxins can be an issue this year, so Hutjens suggests contacting your feed analysis lab for updates on mold incidents.
A strong supporter of Feed Val 2.0, Hutjens enters feed costs and ration data, along with milk prices to determine if certain feeds are worth the price. He noted that there are still many "good buys," with the exception of cottonseed, as it still is too expensive for the value it brings.
More details were shared in "A 2017-2018 forage and feed outlook" webinar. The archived webinar can be viewed here, and our past presentations are archived on our webinar page. This presentation was sponsored by Zinpro Performance Minerals.
---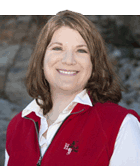 Patti Hurtgen
The author is the online media manager and is responsible for the website, webinars, and social media. A graduate of Modesto Junior College and Fresno State, she was raised on a California dairy and frequently blogs on youth programs and consumer issues.
Join us next month
Dave Barbano
The webinar "Fine tune herd care with new milk analyses" will be held on Monday, November 13, at noon (Central time).Milk quality specialist, Dave Barbano, Cornell University, will discuss milk fatty acid (FA) testing technology. The mid-infrared milk analysis tool is a new concept for improving efficiency of milk production when used in combination with other herd data.
Register at www.hoards.com/webinars
The November webinar is sponsored by Quality Liquid Feeds (QLF).