What is going on in our world today? Why do we turn on the news and hear about people protesting their own country in one breath and in the next learn about the ruthless murder of innocent lives as our country is literally on fire and drowning simultaneously, all the while, bracing ourselves for the next international threat?
It's odd. Nobody has a definitive answer to why these things happen, and nobody can explain the tragedy that we have seen in the last nine months. However, the question that has been answered is, "What is one of the most important characteristics a person can possess that will get them through any hardship?"
Growing up on a dairy, I have had the opportunity to meet some amazing people. Some of these people I have continued to look up to many years later. These individuals I speak of all have one thing in common: determination. It is the determination that gives birth to success through hardship. It is determination that gets you out of bed in the morning and back home at night.
It is determination that is woven into the fabric of some of the best dairymen and women I know. It is this characteristic that gets us all through the toughest times and sets the best apart from the rest. Determination is not a common characteristic found in ordinary people.
As dairymen and women, we do not take hardships lying down. From what I have witnessed, when it comes to struggles, dairymen and women alike, would rather fight on their feet than die on their knees. We as a dairy community are some of the strongest and most determined people on the planet, capable of achieving more than most with little thanks in return. As a community we have accomplished so much that so few would understand, yet our resilience for what we do goes undeterred.
So here's to you, the dairymen and women of the U.S. Thank you for your determination. Thank you for your shared love of animals and stewardship. Thank you for continuing to fight for what is right in the face of adversity yet acknowledging when there is more to learn. Thank you for being content with what you are blessed with but never complacent in what you do. Thank you for being an example for those who are unfamiliar with what we do and a mentor to those who wish to learn.
My hope for you is that the current events only make you stronger and that you will not let your surroundings set your mood but let your mood set your surroundings. As you go about your week, remember that you are not ordinary; you are a dairyman. Stay determined.
---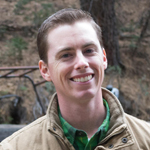 Tyler Ribeiro is a fourth-generation dairy farmer born and raised in California. He is currently partners with his father at Rib-Arrow Dairy in Tulare where they proudly ship their milk to Land O'Lakes. Tyler is actively involved in the dairy industry, holding leadership roles in various organizations locally and across the United States.