Through my work travels, I've been lucky to have the opportunity to visit some unique dairies run by outstanding farm families. Recently, I added a new farm to my bucket list of farms to visit someday: Rivendale Farms of Pittsburgh, LLC.
Rivendale Farms, located in Western Pennsylvania, made a splash at the 2017 World Dairy Expo in the International Jersey Show. The farm captured Reserve Grand Champion, Intermediate Champion, and Junior Champion honors with success that seemed to come overnight.
Although Rivendale Farms is very new, its owner has stated that he always dreamed of having a farm. Thomas Tull, a billionaire from Pittsburgh, fulfilled that goal when he purchased the 157-acre farm in 2016 for $3.65 million, according to an article in the Pittsburgh Post-Gazette.
Tull's fortune came from his role as a businessman and film producer. His resume includes successful movies such as, "The Dark Knight," and "The Dark Knight Rises.
And by the way, he is also a minority owner in the Pittsburgh Steelers football team.
The creation of Rivendale Farms — which milks dairy cattle, grows vegetables, makes maple syrup, and raises poultry — has given the NFL team a chance to connect to the farm. This short video by ESPN shares a little more about the farm and how the Pittsburgh Steelers players benefit from having it nearby.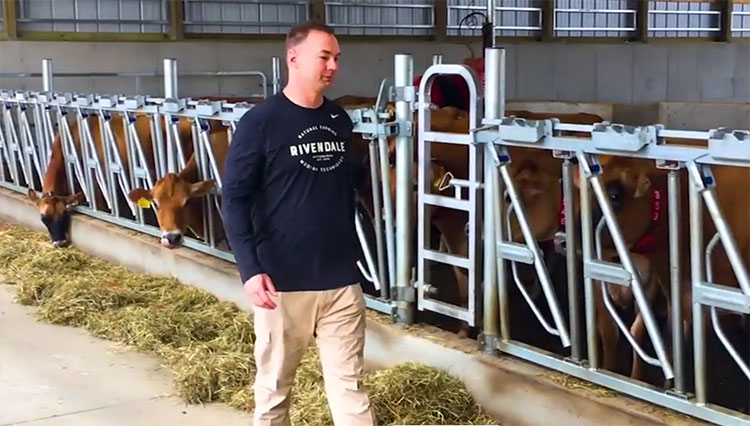 Many of you on your dairy farms graciously open your barn doors and let people in, hoping to teach consumers a little more about where their food comes from. While Rivendale Farms is not your typical farm and Tull is not your typical farmer, it is accomplishing a similar goal. It is encouraging to see a professional football team have the chance to visit animals and learn about food production.
This farm intrigues me because I am a football fan, but more importantly, I am a supporter of all of you who spend your days raising livestock and growing crops. Consumers are consumers, whether they are families in your neighborhood or professional athletes. Any opportunity we get to teach them about agriculture benefits everyone who farms.
---
Abby Bauer
The author is an associate editor and covers animal health, dairy housing and equipment, and nutrient management. She grew up on a dairy farm near Plymouth, Wis., and previously served as a University of Wisconsin agricultural extension agent. She received a master's degree from North Carolina State University and a bachelor's from University of Wisconsin-Madison.