The Olympics come around every two years, rotating between the winter and summer games. With such momentum, it is not uncommon to tie promotions into the Olympics for added exposure, and to capitalize on those with gold medal appeal.
MilkPEP (Milk Processor Education Program) has developed a series of commercials promoting milk and Olympians. But, these Milk Life commercials do more than show the athletes drinking milk – since nine out of 10 U.S. Olympian athletes drank milk as a child, they promote a positive zest for life.
"Built, not born" is the theme of the videos. Being born with potential is not enough. Athletes must work hard to reach their highest goals. That includes training and nutrition. And, in one of the videos, "Rebuilt, not born," may be more accurate as a Gold Medal Olympian recovered from a devastating knee injury and milk was part of his recovery process.
The first message is obvious. Great athletes need strong bodies to perform at optimal levels. Drinking milk was a factor in their success. Bone-building nutrients, protein, and energy needs are all supplied by milk. It is a common need between the generations.
The next point the commercials display is that the generations can learn from each other. The four videos shown below, each feature an older athlete (previous Olympian or current competitor) teaching a younger student their craft.
How does this tie to dairy? Children have a tendency to imitate – the good and sometimes the not-always-good. But, healthy eating habits, including drinking milk, is something that any parent, not just Olympic athletes, should think about encouraging when they sit down to a meal.
The third item included a twist. After the younger person learned from the "master," the student became the teacher and shared their passion with their elder. This reminds us us that there is always something new to learn and that you are not too old to explore things outside our comfort zones.
The videos have an educational message, but they give us a positive outlook on the world, too. Do you have a favorite?

Team USA's Jamie Anderson, the U.S. Olympic Gold Medalist in slopestyle, knows how to soar to reach the Olympic Winter Games: Work hard, set goals, and do your best. She also knows all U.S. Olympians were once hopefuls — and wants to inspire future athletes, like Max, a whiz at BMX — to build their dreams into a reality.

If anyone knows what it takes to go for the gold, it's 1992 U.S. Olympic Gold Medalist in figure skating Kristi Yamaguchi. She has young athletes at home, and she teaches them that nothing comes instantly, you have to put in the hard work to succeed. Whether it's the first time on the ice or hitting the parkour gym — everyone needs a strong nutrition.

Before U.S. Olympic Gold Medalist in freeskiing Maddie Bowman hits the slopes, she focuses on being strong to tackle the superpipe. She also works to inspire girls, like young boxer Alexandra, and shows them that they can do anything they put their minds to, but it takes practice to power their potential plan to guide your practice.

When Team USA's Rico Roman tells people he wasn't born an athlete, he means it. He recognizes that only hard work determines success on the road to PyeongChang — because nothing is given. The retired U.S. Army Staff Sergeant and Purple Heart recipient made his U.S. National Sled Hockey Team debut in 2011. He won a Gold medal for Team USA in sled hockey at the Paralympic Winter Games Sochi 2014 and is a two-time World Champion sled hockey player. He has to eat what's good for him to get what he needs on the ice.

It was a great day of practice for Joss Christensen, so he wanted to make one last run. When the 2014 U.S. Olympic Gold Medalist in slopestyle attempted a trick, he ended up tearing his ACL. The defending champion is on the path to PyeongChang with Team USA and is working hard to rehab his knee — training in the gym and at the table with a strong nutrition plan to help fuel his injury recovery. He includes white milk as part of his rehab nutrition because it has essential nutrients, including high-quality protein, to help build strong muscle. Check out more ways milk helps power Team USA and your athletes at
https://milklife.com/teamusa
.
.
---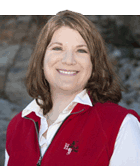 Patti Hurtgen
The author is the online media manager and is responsible for the website, webinars, and social media. A graduate of Modesto Junior College and Fresno State, she was raised on a California dairy and frequently blogs on youth programs and consumer issues.
---
Join us on Monday:

Nina Teicholz
The webinar "Animal fats: separating fact from fiction" on Monday, February 12, at noon (Central time). Nina Teicholz, New York Times best-selling author of The Big Fat Surprise, explains the history of how saturated fats, including butter, came to be unfairly vilified based on weak science, and how the idea that these fats cause heart disease has been thoroughly debunked. She describes the politics of this science, past and present.
Register here
.