A few weekends ago, I exhibited at the last local show of my junior show career. It's hard for me to believe that this part of my life has gone by so quickly. But reminiscing on the memories of the early shows has reminded me of how grateful I am for my showing career. In addition, showing dairy cattle has taught me perseverance as well as given me a strong work ethic and love for the dairy cow.
Throughout the years, I showed at countless shows with my Brown Swiss and Holsteins. Each year I learned how to present my heifer better to the judge and I put more hours into training my calves. I learned that if you don't succeed the first time to not give up right away but try again next year. This is a lesson I've taken with me as a student in college. I learned how a strong work ethic is important and that the rewarding feeling of achieving your goal is worth all the hours put in.
Of all the activities I was involved in during my childhood, showing dairy cattle has by far taught me the most about life. I have met the best of friends during these years. My love for the dairy cow and the industry is because of showing at local fairs when I was beginning 4-H. From walking on the colored shavings to exhibiting for the last time at the Western Dairy Classic earlier this month, these experiences have taught me key skills that I will use in my career and beyond.
---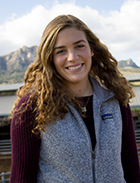 Elise Regusci grew up on her family's farm in Modesto, Calif. Regusci attends Cal Poly University, majoring in dairy science with an agricultural communication minor. On campus, she is the Los Lecheros Dairy Club Ag Council representative and a member of the Cal Poly dairy judging team. Regusci was the 2016 Brown Swiss Youth Ambassador and was the 2017 Hoard's Dairyman summer editorial intern.