I learned to drive on my father's lap before I could reach the pedals, and I was driving a Mack truck by the time I was 10. I learned to weld, to build what needed to be built, and fix what needed to be fixed. I learned how fragile life is and how to protect it. I learned how to plow a field, plant a seed, and pray that the weather was in your favor.
But most important of all, I learned grit. I learned how to persevere through hardships and fight through pain. I learned to never give up, even when the odds were stacked against me; and I learned that too few have had the same opportunity that many of us have been blessed with.
Looking back now, I never understood how slow I was as a child when struggling to complete the same tasks that would have taken my grandfather or father mere seconds to finish. Or how many times I screwed up and caused more work that was unnecessary. It was a price they paid to help me learn.
I have been blessed with two little boys of my own who want to learn everything. They want to drive, swing a hammer, feed animals, shovel everything, and pet the cows. These boys do not know it yet, but they are learning skills that will last them a lifetime. Along with trade skills, they will learn what it means to have perseverance, endurance, dedication, and faith.
A legacy is not synonymous with business. Be sure to share a little time with the next generation.
I challenge you this week to take some time for the little ones at home. They will not be "underfoot" for long.
---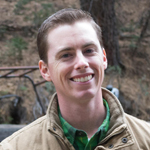 Tyler Ribeiro
Tyler Ribeiro is a fourth-generation dairy farmer born and raised in California. He is currently partners with his father at Rib-Arrow Dairy in Tulare where they proudly ship their milk to Land O'Lakes. Tyler is actively involved in the dairy industry, holding leadership roles in various organizations locally and across the United States.