The snow is melting, and warm temperatures are on the way. Out here on the West Coast, we are enjoying weather in the 80s already this week! With views of blooming flowers, growing wheat fields, and the sun shining, I was reminded of how much I enjoy a new season. With the beginning of a new season, there is always something changing. Whether this is the weather, scenery, or in agriculture, new projects to tackle or crops to plant, seasons bring us all new opportunities as well.
My college rotates classes every three months instead of the more common semester system. With a lot of schoolwork and tests crammed into the 10 weeks of instruction, the quarter usually flies by a little too fast. But I am grateful for the quarter system as I have the opportunity to take many different classes throughout the year. If one class wasn't my favorite, in a few weeks I will have a completely different set of classes.
The quarter system at my school reminds me of the seasons and how there can be challenges within these time frames. However, there are also opportunities to tackle these dilemmas with a fresh start of a new season.
With the start of spring, I plan to set new goals for the next few months. One of them is to be more of an advocate about agriculture to those around me. What goals will you set this spring season?
---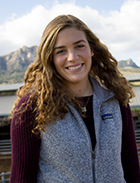 Elise Regusci grew up on her family's farm in Modesto, Calif. Regusci attends Cal Poly University, majoring in dairy science with an agricultural communication minor. On campus, she is the Los Lecheros Dairy Club Ag Council representative and a member of the Cal Poly dairy judging team. Regusci was the 2016 Brown Swiss Youth Ambassador and was the 2017 Hoard's Dairyman summer editorial intern.