Hoard's Dairyman talked with Renee Smith of Virtus Nutrition at World Dairy Expo about their company and the solutions they offer for dairy farmers. Watch the video above for more information on omega 3's, fat supplementation, and additional milk production.
Learn more at their booth at World Dairy Expo in the Exhibition Hall, booth EH4323, or online at virtusnutrition.com or www.awholenewhealthy.com.
---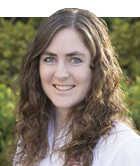 The author is an associate editor. She covers feeding and nutrition, youth activities, and heads up the World Dairy Expo Supplement. Maggie was raised on a 150-cow dairy near Valley Center, Kansas, and graduated from Kansas State University with degrees in agricultural communications and animal sciences.