My good friend, Barb, recently lost her job. The company she worked for reorganized her department and her position was eliminated.
When Barb called to explain what had happened, she said the hardest part of the termination meeting wasn't losing her job – it was her employer's apathy.
Barb had worked for her company for over 30 years, but there was no expression of gratitude for her years of service or the contributions she had made to the company. As Barb's friend, I was sad along with her. As an employer myself, though, I was appalled by her employer's insensitivity.
I understand that terminating employees is the most awful part of the job. It would be much easier to be apathetic, but letting employees go shouldn't be a heartless act.
Whether an employee worked for your company for three years or 30 years, it is appropriate — and kind — to recognize their contributions. Even if the employee is being fired for performance issues, rather than being laid off due to organizational restructuring, act with kindness and gratitude.
Your expression of gratitude can be as simple as, "Thank you for all you did for us."
It is also a gesture of kindness to end the termination meeting with a positive message. That message might be a word of encouragement about finding a new position. You can also offer to be a reference in their search for a new job.
The peak-end rule in psychology suggests that we judge an experience largely based on how we felt at its peak (its most intense point) and at its end, rather than based on the total sum or average of every moment of the experience.
Letting employees go with kindness and gratitude helps them remember their time with your company as a positive experience.
---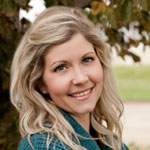 The author is a dairy farmer and writer from central Minnesota. She farms with her husband, Glen, and their three children. Sadie grew up on a dairy farm in northern Minnesota and graduated from the University of Minnesota with a degree in agricultural communications and marketing. She also blogs at Dairy Good Life.
---
Join us on December 10, 2018 for our next webinar:
"Cutting feed costs without cutting milk"
presented by Bill Weiss, The Ohio State University
Register here for all webinars.