Can I be real for a minute? Are milk prices really that bad? We've seen much lower prices and survived — anyone remember 2009? The problem is that milk price isn't increasing nearly as quickly as the cost of literally everything else. The bottom line is that our cost of production is growing faster than what we're getting paid. So naturally, we all start to nitpick at every little thing that costs us money.
Example A: dairy checkoff. Everyone is complaining about how much money we spend on checkoff. Maybe I'll throw my hat in the ring, too. Over the last few years, I've been testing the waters when it comes to what checkoff can and can't do. As someone with very mixed opinions, depending on the day, I have very strong feelings in both directions.
I hate checkoff.
No matter how much of a fluctuation we see in milk sales they still get their cut from my milk check. When asked, you'll hear the same numbers over and over again of how much more product their programs have sold. But if they're selling more product, why are farms still failing? What makes this entire situation even more frustrating is that they don't seem to be feeling the strain that we do.
Do they truly understand how dire the situation has become? If they do, why do they seem to be ignoring it? Also, why do I feel like the animal activists are winning our advocacy fight? Why do we sit back and wait for them to attack us? When is it our turn to play offense and take the fight to them? When it comes to checkoff, I always feel like I have more questions than answers, and it's beyond frustrating.
I love checkoff.
No matter what you think, they have made some big strides in pushing dairy forward. They've helped spur some big fast-food chains to use real dairy and more cheese in their menu items. Though I believe that some of their programs need to be revisited and/or reorganized, their bottom line is to spread a dairy positive message. I have personally experienced the help and knowledge they offer for those of us attempting to navigate the ever-changing waters of social media. And, let me just say it's worth it. No matter what the organization seems to be, the people who work for checkoff truly do want to help. Some of the staff I've worked with have gone to their wits' end to get me answers or the help I've asked for.
I'm not trying to condemn or defend dairy checkoff but I've learned that their hands are tied in more ways than most people know — first and foremost by rules. There are so many rules because they're considered part of the USDA (United States Department of Agriculture).
That being said, someone made those rules, so doesn't that mean that someone can change them? The good news is that I've learned that our local checkoff isn't nearly as strictly governed as the national program.
We need to push. When you suggest a program or project to a staff or board member, annoy them until you get an answer. If that answer is "no," ask them why. Come to them with well thought through ideas; then offer to help. I don't know what all of the answers are, but I know that angrily yelling at dairy checkoff staff members at meetings or in Facebook groups is getting us nowhere. Do you want checkoff to start working for us (you know, since we pay them)? Then make them.
---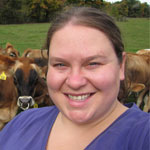 The author dairies in partnership with her parents and brother at Spruce Row Farm in Pennsylvania. Jessica is a graduate of Pennsylvania State University, and since 2015, she has been active in promoting dairy in her local community. You can find her and her 250 Jersey cows on Facebook at Spruce Row Dairy or on Instagram at @seejessfarm.