I get that not everyone wants to put themselves or their farm out there on social media for the world to see. It's a lot. You have to be pretty strong to withstand all of the criticism and anonymous hatred. So maybe a Facebook page for your own farm isn't what you want, but chances are if you're on social media, you follow someone else's. Right? Maybe you share their posts on your personal page to help show what real farmers and real farming is like.
Even though it's not your page, or your responsibility, have you ever thought about how your comments on someone else's post makes farmers look?
The truth is, whether you have your own page or not, how you react or respond to other's comments on other pages is also a big deal. For example, the other day a treated cow was accidentally milked into our tank, and we had to dump 1,000 pounds of milk.
It wasn't a great day. Instead of crying over spilled milk, I took a few photos and used it to show people how dedicated farmers are to producing a clean, safe product. So far, it has reached over 500,000 people with over 400 comments. A lot of the messages are from consumers thanking us for being honest or asking more questions about how we ensure the safety of our food supply.
Then, there were the farmers. Most of the ones who reached out were commiserating with our situation. "Been there done that" kind of comments. Those comments were helpful, it showed people that it's not just our farm that cares about the quality of our milk, that other farmers are just as committed as us.
Then, there were the ridiculous comments nagging me about how and why it happened. I think my favorite comment went a little something like this, "Milk your own cows then there are no screw ups." First of all, it was a mistake, plain and simple. As a fellow farmer, you should know that measures were immediately taken to make sure it didn't happen again. Secondly, grammar! And also, really? How could you think that comment was even slightly okay? Do you know what the general public doesn't need to see? Farmers hating on farmers.
I know that not everyone is going to agree or even like each other, but there are so few of us left that we really can't afford to be seen putting each other down in public. Kindness will take you so much farther than hatred. How old do you have to be to understand that? Big farm, small farm, organic farm, or homestead farm, you don't have to agree with everything they do, you just need to not be a jerk about it. It's surprisingly easy to think of a mean comment and then keep on scrolling without typing it out. Or if you really need to say it, send it privately. It may not be the same as throwing sticks and stones, but bullying, of any kind, isn't okay.
---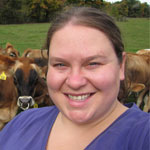 The author dairies in partnership with her parents and brother at Spruce Row Farm in Pennsylvania. Jessica is a graduate of Pennsylvania State University, and since 2015, she has been active in promoting dairy in her local community. You can find her and her 250 Jersey cows on Facebook at Spruce Row Dairy or on Instagram at @seejessfarm.