What time was that meeting? Where was that educational session? The World Dairy Expo app has all of those answers at the touch of a finger.
Downloadable for free for either Android or iOS users, the mobile event app features custom itinerary building, meeting scheduling, interactive maps, and more. It's quick and easy to set up a personal profile that will let attendees customize their Expo experience.
The interactive maps allow trade show attendees to locate companies they want to visit and highlight their booths. Each personalized account also features an "Exhibitor Connect" tool that allows attendees to request a meeting with a specific company or share their contact information with trade show exhibitors via a QR code.
The app is not the only feature that can bring you World Dairy Expo news to your fingertips. Show results will once again be updated live as classes are completed and can be delivered straight to your phone if you so choose.
Sign up to receive the results of your choice by texting "WDERESULTS" to 727-493-3976. You will then be prompted to select the breed shows you wish to keep up-to-date on. Options are ALL (all breeds), AY (Ayrshire), BS (Brown Swiss), GU (Guernsey), HO (Holstein), JE (Jersey), JRHO (Junior Holstein), MS (Milking Shorthorn), and/or RW (Red and White). You can sign up for any number you would like.
If you are like the Hoard's editors, your day or days at Expo are packed, and you have no desire to miss an opportunity. These are just a few tools that can keep your finger on the pulse of World Dairy Expo 2019. Don't miss out.
---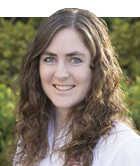 Maggie Seiler
The author is an associate editor. She covers feeding and nutrition, youth activities, and heads up the World Dairy Expo Supplement. Maggie was raised on a 150-cow dairy near Valley Center, Kansas, and graduated from Kansas State University with degrees in agricultural communications and animal sciences.