For many, World Dairy Expo is a mixture of hard work and fun. The show also provides ample chances to further your dairy education. The newest educational component added to World Dairy Expo are the Knowledge Nook sessions.
"Education is a key piece of World Dairy Expo," said Laura Herschleb, the show's marketing manager. She explained that the Knowledge Nook is a dedicated area where participating companies can showcase their most recent products, services, and research to bring more education to Expo attendees.
"It will feature all things new and cutting edge, and we are very excited for all the Knowledge Nook sessions," Herschleb said.
There are currently 21 sessions scheduled, and they will take place in the atrium of the Exhibition Hall. An up-to-date schedule and overviews of the presentations can be found at https://worlddairyexpo.com/pages/Knowledge-Nook-Sessions.php.
The first session will take place on Tuesday, October 1, at 10:30 a.m. Take a look at the list of presentations and schedule some learning into your World Dairy Expo trip!
---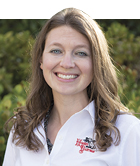 Abby Bauer
The author is an associate editor and covers animal health, dairy housing and equipment, and nutrient management. She grew up on a dairy farm near Plymouth, Wis., and previously served as a University of Wisconsin agricultural extension agent. She received a master's degree from North Carolina State University and a bachelor's from University of Wisconsin-Madison.