When the trade show closes on the first day of World Dairy Expo, hundreds of company representatives head to the Exhibitor Party hosted by Hoard's Dairyman and World Dairy Expo. This gathering has taken place for more than two decades.
"The Exhibitor Party is an opportunity to thank our partners and suppliers who support the dairy industry," said John Mansavage, Hoard's Dairyman Director of Marketing. This annual tradition began shortly after the Exhibition Hall was built on the World Dairy Expo grounds. Like in years past, Mansavage thought the event was well attended and enjoyable for all.
The party always features food and refreshments, but this year's meal included a special treat. Guests had the opportunity to enjoy grilled cheese sandwiches made with our Hoard's Dairyman Farm Creamery Belaire cheese. It was a fun chance for us to showcase a product made from the milk produced by the Guernsey cows on the Hoard's Dairyman Farm.
The party allows exhibitors to reconnect with others at the beginning of the show. It's a low-key atmosphere in which people can relax and talk about both work and personal happenings.
Our staff enjoys the opportunity each year to host the trade show exhibitors after a successful first day at the show. Expo is a gathering place for family and friends, and the companies that we get to work with year in and year out definitely become our friends and collaborators.
---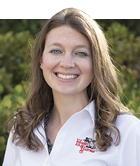 Abby Bauer
The author is an associate editor and covers animal health, dairy housing and equipment, and nutrient management. She grew up on a dairy farm near Plymouth, Wis., and previously served as a University of Wisconsin agricultural extension agent. She received a master's degree from North Carolina State University and a bachelor's from University of Wisconsin-Madison.