A legend made her way back to the colored shavings for the International Holstein Show. Judge Chad Ryan of Wisconsin did not make it a secret that he has a "soft spot for older cows."
After a moving speech by Ryan and consulting with his associate, Lynn Harbaugh, he proudly selected his Senior Champion, Butz-Butler Gold Barbara-ET, as his Grand Champion. For Ryan, Barbara, had "just a little more quality today than that incredible pair of five-year-olds."
The production cow was followed by the winning five-year-old, Oakfield GC Darby-ET, as Reserve Senior and Reserve Grand Champion. Darby was exhibited by T&L Cattle of Rosedale, British Columbia; Jason Mell, Merrill, Wis; Frank and Carol Borba of Escalon, Calif.; and Frank and Diana Borba of Modesto, Calif.
Intermediate Champion of the show belonged to La Femme Fatale and Shawn and Seth Nehls of Kaukauna, Wis., showing Floydholm Mc Emoji-ET, the first place Junior Three-Year-Old. Right behind Emoji was the winner of a deep Senior Three-Year-Old Class as Reserve Intermediate Champion, Jacobs Doorman Victoire, owned by Milk Source, Ransom-Rail, and Laurie Fischer of Kaukauna, Wis.
The winning summer yearling captured the judges' hearts of the International Holstein Show. Windcroft Drman Irreplaceable exhibited by Westcoast Holsteins of Chilliwack, British Columbia took home those honors. Following Irreplaceable was the first place Winter Heifer Calf, Blexys Crush Budweiser-ET, exhibited by Budjon, Vail, Abbott, Van Exel, and Woodmansee of Lomira, Wis.
Braedale Goldwyn once again won Premier Sire of the cow show, while Val-Bisson Doorman-ET was again Premier Sire of the heifer show. Premier Breeder was collected by Ferme Jacobs Inc. for the third year in a row, and Reyncrest Farm was Premier Breeder and Exhibitor for the heifer show. Mike and Julie Duckett were named the 2019 Premier Exhibitor.
---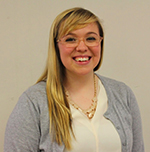 Sarah Thomas grew up in Pittsboro, N.C., showing and raising dairy heifers. Thomas attends Virginia Tech, majoring in dairy science with minors in agricultural economics, communication, and Spanish. On campus, she's involved with Dairy Club, Sigma Alpha, and has been a member of the Virginia Tech dairy judging team. Thomas was the 2019 Hoard's Dairyman summer editorial intern.