How long have we heard that fluid milk must innovate in order to combat declining consumption?
With such a dynamic marketplace, it seems that simple white milk is sometimes lost in the shuffle. Instead, it's creativity that has been behind some of the most stimulating dairy successes of the past decade, like ultrafiltered milk and Greek yogurt. Thanks to those products, we see that putting a spin on classic dairy products can resonate with consumers.
That's why it's exciting to see a product revamp from the largest fast food dairy customer in the country. This month, McDonald's will launch a new and improved chocolate milk that has 25% less sugar and is low-fat (the previous chocolate milk option was fat-free).
The kids' menu at McDonald's currently features only low-fat white milk. Chocolate milk, as well as cheeseburgers, was officially dropped from the menu in 2018 in an effort to cut calories in kids' Happy Meals.
A checkoff partnership with Dairy Management Inc. (DMI) allowed the restaurant to develop a dairy beverage option to put back on the menu for their kids' meals. DMI first supplied information on consumer trends and preferences. They then worked with the McDonald's team and provided support from food scientists to make the new chocolate milk a reality.
DMI and McDonald's believe the improved beverage will be a hit with consumers. Surveys have shown that Americans increasingly want more options when it comes to fluid milk, and that includes flavors and fat levels. This higher-fat, chocolate milk will certainly be more palatable for many kids. Factor in the reduced sugar level, and more parents are likely to want the milk option for their child rather than water or juice.
McDonald's is already a huge buyer of dairy, with around 80% of their menu featuring milk, cheese, or butter. Now, by offering an improved milk to its customers (of whom the company serves over 60 million around the world each day), dairy consumption is sure to reach even new heights. The redesign could also signal to other restaurants the value of fluid milk when served with the consumer in mind.
A new fast food milk won't reverse the trend of fluid milk consumption overnight, but the process behind it is a step in the right direction.
---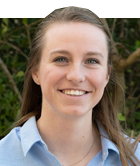 Katelyn Allen joined the
Hoard's Dairyman
team as the Publications Editor in August 2019. She manages the development, editing, and marketing of the variety of resources offered through the Hoard's Dairyman Bookstore. Katelyn is a 2019 graduate of Virginia Tech, where she majored in dairy science and minored in communication. Katelyn grew up on her family's registered Holstein dairy, Glen-Toctin Farm, in Jefferson, Md.