Ten years ago, or even just five, it's likely safe to guess that not many people thought about food on the cellular level. If they did, it was probably not about using cells to create entirely new foods. In the last decade, though, the idea of growing and developing food at the most basic level, cell by cell, has become reality.
It started with plant-based "meat" items, and by now has morphed into growing meat and milk imitators in lab settings. Synthetic milk and ice cream are currently the third most well-known lab-developed food, behind plant "meats" and cellular meats. The burning question is, are these products here to stay? If they are, they will certainly change how farmers grow and market their products. To gain some insight into what the future might hold for this unique market, Charleston|Orwig helped conduct a survey of about 500 adults across the county on their opinions on these products. Here's the reality they found.
1. Americans are skeptical
For those of us whose lives are intertwined with the agricultural and food worlds, it's probably become overwhelming how much we seem to hear about plant-based "meats," synthetic foods, and cellular agriculture. The reality, though, is that this is still very much a developing industry that is trying to carve out its spot in the marketplace. Consumers are watching as it does so, and they're not sold on it yet. The survey found that 44% of respondents said these cellular products have no place in the food industry — less than a quarter said that they did.
2. There's an age gap
It's not particularly surprising that younger consumers, specifically those in the 18 to 24- year-old range, are significantly more likely to try synthetic food and beverages than those 65 and older. What may be more surprising is that men seem to be (a little bit) more likely to try them than women. Overall, however, 40% of respondents said these products seem "scary" and they are not interested in trying them at all.
3. Health causes apprehension
When asked about their biggest concerns surrounding lab-grown food, respondents clearly chose options dealing with the healthiness of these products, even more so than environmental impact or amount of processing. A third of the group said they worry about the long-term health impacts of consuming cell-based foods, and another quarter said they were most concerned the foods wouldn't be healthy.
4. Biggest draws are animals and the environment
These innovation companies often sell their products as being a more responsible and sustainable way to create food without an impact on animals, and this message has resonated with consumers. A few of the top potential benefits of lab-grown foods according to the consumer perspective were that they don't harm animals and that their use will result in less energy needed to raise animals. Additionally, a high percentage of those surveyed saw lab-grown foods as a way to help feed the world.
5. There will be flexibility
When asked to choose between plant-based burgers and beef burgers, only 17% said they plan on eliminating beef entirely. By contrast, 52% said they will probably never consume or rarely consume plant-based burgers. These synthetic products are not going to completely take over the meat or milk market. Instead, there will be a coexistence of types as many consumers purchase both.
What this all means
It might be strange to think about, but whether we like it or not, lab-developed foods will probably continue to give consumers more choices in the grocery store. And they are accepting these choices, slowly but still surely. As we see in these responses, though, this is far from the end for beef and dairy. Global meat consumption will continue to rise, especially in poorer regions of the world. Dairy production will continue to have a place in the market. What is changing is that real products and those grown in a lab will live together.
---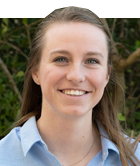 Katelyn Allen joined the
Hoard's Dairyman
team as the Publications Editor in August 2019. She manages the development, editing, and marketing of the variety of resources offered through the Hoard's Dairyman Bookstore. Katelyn is a 2019 graduate of Virginia Tech, where she majored in dairy science and minored in communication. Katelyn grew up on her family's registered Holstein dairy, Glen-Toctin Farm, in Jefferson, Md.