I absolutely love my school and wouldn't trade it for the world, but I want to bring up a topic that sometimes gets swept under the rug. Personally, I have many friends and peers at home, in my family, and in the dairy industry who didn't go to a four-year school. The awesome part? They're following their passions, those goals just didn't align with a four-year school, and that's okay! It's more than okay. It's their journey and no one else's!
Matt Boop, 20, from Millmont, Pa., and Kyle Natzke, 28, from Fond du Lac, Wis., are both young dairy enthusiasts that have provided insight on their journey in the industry.
What's your current involvement in the agriculture/dairy industry?
Boop: I am a seed salesman for Pioneer Seeds and I work on the home farm, Heart and Soul Holsteins. The farm is home to cows we have bred as a family in addition to those we board for customers. We also crop approximately 200 acres and have a 42,000 chicken house for layer hens. This upcoming spring, we will have a second house and have around 84,000 birds. In my free time, I enjoy helping out in my area to coach upcoming dairy bowl kids. You can always count on me rooting for the Pennsylvania kids at National Holstein Convention!
Natzke: I've made a full-time career out of fitting and caring for cattle. I find myself on the road, across the border and even overseas working shows and sales more than 40 weeks of the year. In addition, I buy, sell, and develop show cattle with my parents. We also have a string at several shows throughout the year and specialize in show animal boarding and care for clients. In my spare time, I help coach dairy bowl, teach judging fundamentals, and mentor youth interested in fitting and caring for animals.
How did you get to where you currently are?
Boop: I graduated high school in 2017, and I contemplated a four-year college, but ultimately decided it wasn't for me. On the other hand, I wanted to find another way to draw income without it coming from the home farm. I was looking for an opportunity where I could be close enough to home to be involved in the day-to-day operations. So, when the job in two neighboring counties came up with Pioneer, I knew it would fit me perfectly.
Natzke: I have been fortunate to have a lot of great mentors over the years, not to mention a father that handed me a pair of clippers as soon as I was old enough to hold them. Luckily for a much younger me, I was given a chance by a lot of great breeders and cowmen in the industry who didn't mind letting a young kid tag along at the shows. When I was given these opportunities, I was sure to listen and learn as much as I could. I'm not going to lie, fitting is not always glamorous, and I have been the "low man on the totem pole" more than my fair share of times, but all of those experiences taught me more than any textbook ever could. Still to this day, I strive to keep the same work ethic I had back then and always give 110%, no matter what farm or show I am at. There is a lot of talent in this industry and we all have the same common goal, the best way to set yourself apart is to work hard, be dependable, and always be a team player.
Why didn't you choose a four-year school?
Boop: I decided not to go to a four-year school mostly due to the fact that I knew someday I wanted to come back home and help run our own operation. I also didn't want to carry debt in college loans and try to milk cows because I knew that just wasn't possible for me. The time I've had since high school has given me the chance to better focus on my own cows because they are what gets me up in the morning. I'm blessed to work with some great cows whether they're bred by our family or boarded at our farm; this is what works for me, and I love it.
Natzke: I believe there is no "normal path," and I never had a set plan for what I wanted to do after high school. All I knew was I wanted to work with cattle. I didn't choose a four-year school for a few reasons, one being I hadn't found a career path that sparked something inside of me. Attending Short Course at UW-Madison gave me the opportunity to learn and explore more about the dairy industry, and I will never regret my decision to attend. If any young adult is on the fence about their career path or plans after graduation, I highly recommend attending an industry short course program. And if any young fitter is wondering, I still had time to do a lot of clipping on nights and weekends! I think it is very important to build relationships and network, which I have been doing for the past 15 years. I have seen more management styles, farm set-ups, and have gained more hands-on experience working with cattle than I ever imagined. While I love fitting, one day I will slow down, and I feel confident that some of the connections and lifelong friendships I have formed, will take me down the next path, whatever it may be.
Do you have any advice to those considering their options?
Boop: Find something you're passionate about. Just because others are going to college doesn't mean it's the right path for everyone. I'm proud of my friends that have gone and are going to a four-year school, but I'm also proud of myself and the accomplishments I've earned. I'm still learning just like everyone else, but just not in the same type of setting. Like the saying goes, "If you find something you're passionate about, you'll never work a day in your life."
Natzke: You need to find something you have a passion for. Be sure that you are going to show up and work hard every day. For me, cows and fitting have always been my passion; that mixed with the opportunity to travel the world made my choice to pursue my career a no brainer. My advice to any young person with a passion for cattle is to never forget that attitude will get you a long way. You have to be willing to learn and know that you're not always going to be right or can have differing opinions than others. It is important to keep your ears open and really listen — you may just get the best advice of your life!
Whether you're a young person in the industry still deciding what's best for you or you know someone in those shoes, start a conversation with them and break the stigma that there is a certain path to follow. There is no "right way" to go about our life. At the end of the day, it's what works for you!
---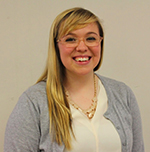 Sarah Thomas grew up in Pittsboro, N.C., showing and raising dairy heifers. Thomas attends Virginia Tech, majoring in dairy science with minors in agricultural economics, communication, and Spanish. On campus, she's involved with Dairy Club, Sigma Alpha, and has been a member of the Virginia Tech dairy judging team. Thomas was the 2019 Hoard's Dairyman summer editorial intern.