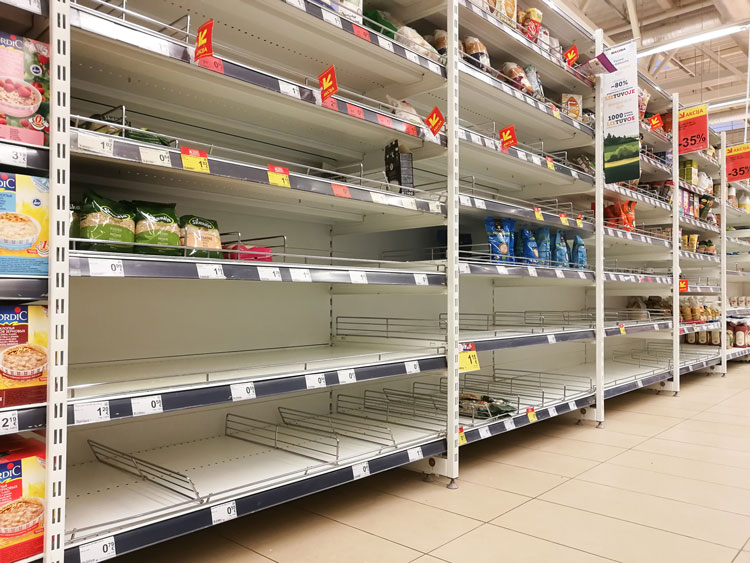 Unless you live under a rock, you know that times are a little hectic and scary right now. How much affect has one virus caused? A pandemic, death, and a lot of sick people. I don't think I have ever used so much hand sanitizer in my life. I saw a meme on Facebook saying roles had reversed, and now the younger generation was yelling at the older generation for going out.
The last few weeks, I've kept myself pretty much at the farm or home. I haven't done a lot of errands or gone out with friends . . . until yesterday. Both sets of grandparents needed groceries, and I wasn't about to let them out into those madhouses. So, I left work and headed to the nearest store. It wasn't quite as busy as I expected but definitely more busy than normal.
They needed bread, which all that was left were two unsliced loaves of Italian bread. As I went down the aisles, it didn't seem as bad as I thought it would be. Then I got to the toilet paper aisle.
I stood there a minute, watching people swarm the aisle one after the other walking past the vacant shelves, uttering "Good grief," or "I guess we will have to try again somewhere else," or "Man, no one has toilet paper!"
I grabbed my buggy and headed toward the end of the aisle where the shelves were completely packed with napkins and tissue. I'm still wondering why people haven't thought of those alternatives.
I finally made it to the refrigerated section. I looked down and all I could do was smile. There wasn't but a couple of gallons of milk left. There was plenty of "fake milk" left, though. Although I didn't need milk I sat there, and within just a minute those last few gallons were grabbed up. I wanted to high five the person who picked up the last gallon but we are social distancing . . .
In this life, at some point you will most likely need a doctor and a lawyer, but you will always need a farmer. I encourage all people to stay healthy as best as possible, wash your hands, eat a lot of meat, and drink plenty of milk. Get your essential vitamins!
---

Mark and Caitlin Rodgers are dairy farmers in Dearing, Georgia. Their "Father and Daughter Dairy Together" column appears every other Thursday on HD Notebook. The Rodgers have a 400-cow dairy that averages 32,000 pounds of milk. Follow their family farm on Facebook at Hillcrest Farms Inc.