How many times have we all heard as dairy farmers that we should all be online sharing our stories? It seems we get encouragement from every angle and every industry ally. And guess what? They are right! We truly need more voices sharing dairy's story.
As the consumer becomes more disconnected from farming, they still want to know where their food comes from. We need to be sharing our stories to provide them with accurate information. Because guess what else, the other side is loudly sharing their viewpoint, too.
June Dairy Month is the perfect time to add your voice. You don't have to start up a page or have any fancy plan for the month. Just simply put some effort into sharing your daily dairy life with your friends and family on whatever social media platform you are already active.
I usually really look forward to advocating during this month; it really is a time to highlight the goodness of dairy. But beware, the opposite side is already organized and attacking our posts early this year.
The members of these groups are animal activists, vegans, and, well, just plain extremists. They are as passionate in their belief that animals should not be utilized for production as we are in our right to farm. While I think we are all entitled to our own opinions, their tactics of overtaking posts with their hateful speech and threats is just demeaning.
I don't share that to scare you away from sharing but rather to make you aware and prepared if you should find yourself being in the middle of one of their attacks. Ban and delete offensive posts and have your bad word filters in place if you run a farm page. They really aren't there to engage in a conversation like the average consumer is. And as always, if you ever find yourself really in a situation that is getting out of control, reach out to your local or national checkoff group for more support.
But the moveable middle, the average person who genuinely is there and wants to hear your story will be following along, too. Focus on them and let that outweigh the bad. Don't forget to always take the high road. After all, you always catch more flies with honey than vinegar.
If anything, I hope the louder opposition encourages you to join us in sharing your truth about dairy. Consumers need to hear from us, we need to speak up or someone else will continue to tell our story for us! So even if your online presence is as simple as sharing a fellow agvocates post this next month, help us shine the light on all the goodness that is June Dairy Month.
---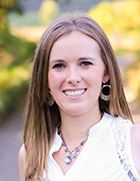 The author is a third-generation dairy farmer from Oregon where she farms in partnership with her husband and parents. As a mother of two young boys who round out the family-run operation as micro managers, Darleen blogs about the three generations of her family working together at Guernsey Dairy Mama. Abiqua Acres Mann's Guernsey Dairy is currently home to 90 registered Guernseys and transitioned to a robotic milking system in 2017.