Back-to-school time is always a season of adjustment for parents and students, and that's especially true on dairies — many are losing their best help! Now, I am not a parent, but it wasn't too long ago that I was a student stressing about starting classes again. I'll admit that I never really considered what going back to school meant for my teachers. My classmates and I showed up, and they were ready to go.
This year is obviously much different for all involved with education. Hardly anything is happening the way everyone would like it to. We're realizing the many factors that getting back to school encompasses for teachers and how their role will have to shift this year. To say the least, COVID-19 is throwing more curveballs at a job that is not easy to begin with.
Maybe it is because most of my family is involved in either education or agriculture, but those fields have always seemed very similar to me. Farming and teaching are two of the oldest occupations in the book, which is more than a coincidence. Both are centered around providing for others, both require thoughtful planning, and success in either is driven by dedication. And now over the last few months, we are seeing that both require the ability to adapt.
Many would agree that agricultural educators at every level are especially skilled at flexing this muscle. Who else could put together a competition team in five days, challenge college students with example data from the "real world" or be willing to travel around the country with their students? Whether college, high school, middle school, or even 4-H instructors, we all have someone to thank for guiding us along our paths in agriculture. I know I certainly do, and I'd challenge you to think of yours.
Most hands-on learning opportunities, field trips, presentations, and contests that are the cornerstones of learning agriculture will be canceled this year. As educators continue to do their best to develop young people into the skilled, confident thinkers and leaders that agriculture continues to look for, they need and deserve support more than ever. When the students around you go back to school this year, be sure to thank the ones leading them.
(And for those starting a teaching career this year, keep your chin up — it will only get better from here!)
---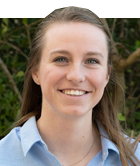 Katelyn Allen joined the Hoard's Dairyman team as the Publications Editor in August 2019. She manages the development, editing, and marketing of the variety of resources offered through the Hoard's Dairyman Bookstore. Katelyn is a 2019 graduate of Virginia Tech, where she majored in dairy science and minored in communication. Katelyn grew up on her family's registered Holstein dairy, Glen-Toctin Farm, in Jefferson, Md.