Sustainability is at the forefront right now, in agriculture and beyond. For those of us in dairy, we most often focus on what can be done to be more environmentally friendly from a livestock and crop production perspective.
These efforts to reduce our carbon footprint and limit the use of natural resources go beyond the farm gate, though, and climb all the way up the manufacturing ladder. Many companies that purchase agricultural commodities to create products are making commitments to a cleaner future.
During the Sustainable Agriculture Summit held in Las Vegas, Nev., a panel discussion on regenerative agriculture's role in climate resilience included comments from Jeff Frye, the vice president of global sustainability innovation and product development and procurement at Kontoor Brands Inc. Kontoor Brands is a global lifestyle apparel company with a portfolio including popular brands such as Wrangler and Lee.
Frye is a third generation textile employee who has worked on both the denim manufacturing side and the denim retail side. He said that at Kontoor Brands, they are "laser focused" on the changes that can make a difference.
For example, this year, the company joined the Science Based Target initiative. "We are working feverishly to submit data so that we can set science-based targets for carbon mitigation," he explained. "We are excited about that."
They also are focusing on using renewable energy in all their owned and operated manufacturing facilities in the U.S. and beyond, but he said, "That is a journey." He explained that this can be more difficult if a country's government is not supportive of that mission.
Within the jean making process, he said they have eliminated the use of harmful chemicals. "We are to a place now that anything that is harmful, we have taken that out of the process, and we are committed to keeping that policy in place," he noted.
In addition, he said they spend a lot of time focusing on water use, from cotton growing to making the jeans.
"We are doing everything we possibly can do to take water out of the process, from textile manufacturing to garment manufacturing," he shared. "When I started my career, we could easily spend 2,000 gallons making a pair of jeans. Today it's a fraction of that, maybe 500 gallons, end to end."
While a company like Kontoor Brands can make their own pledges to be sustainable, they can only do so much without a commitment from farmers and ranchers.
"It's about sourcing sustainable fibers. It's very, very important that the products you use to make the products that you sell are sustainable," he explained. "How can you be sustainable with only attribute or one process? For us, it's end to end, managing those sustainable fibers and the selection of the process."
On the retail side, the panel also shared their thoughts on the importance of sustainably sourced products when it comes to Generation Z, the next group of consumers.
"From my perspective, the awareness of the consumer has exponentially increased," he said. "The connectivity society has today, everyone is carrying around a mobile phone, I believe the consumer is really focused and really aware (of what they are purchasing)," he noted.
---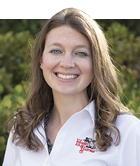 Abby Bauer
The author is the senior associate editor and covers animal health, dairy housing and equipment, and nutrient management. She grew up on a dairy farm near Plymouth, Wis., and previously served as a University of Wisconsin agricultural extension agent. She received a master's degree from North Carolina State University and a bachelor's from the University of Wisconsin-Madison.