When I think back to snack time at elementary school, the snack I brought from home may have varied, but milk was always part of the equation. It was usually a job of two students in the classroom to walk down to the cafeteria with a milk crate, fill it with the appropriate number of cartons, and then bring it back to the classroom. Most of the students found this to be a fun task to complete!
Each teacher handled it a little differently, but chocolate milk was usually offered in moderation or as a special treat. In one classroom, we could order a chocolate milk on Fridays. In another, each child could order one chocolate milk, and then any additional milks would be white. I personally was a one carton per snack consumer, but I remember some kids ordering multiple milks, and a few male classmates ordering half a dozen or more so they could have a contest to see who could drink them the fastest. (Thank you, boys, for doing your part to utilize fluid milk!) When given the opportunity, I would order chocolate milk because I was — and still am — a big fan of that milk variety.
Late last week, the U.S. Department of Agriculture announced that a rule will be published today that would allow schools to serve flavored low-fat milk for at least the next two years without the need to secure a waver. The 1% milk option has been permitted since 2017 and is part of the new transitional standards for school nutrition programs that will remain in place until a permanent rule is established for the 2024-25 school year.

This is good news for dairy, because when the USDA updated the Dietary Guidelines for Americans in 2012, it restricted schools to serving only fat-free flavored milk in addition to unflavored low-fat and unflavored fat-free milk. The result was reduced milk consumption by students. In 2017, Congress required USDA to allow states to serve flavored 1% milk again, and that continued to the current time.
Milk is a major source of calcium, potassium, phosphorus, and vitamin D for children 2 to 18 years old. Unfortunately, the federal Dietary Guidelines Advisory Committee report from 2020 noted that 79% of 9- to 13-year-olds were not meeting the recommended intake of dairy foods. Providing milk in schools with the fat content and flavors children enjoy can help improve this situation. It can also result in less wasted food.
The rule being announced today will also delay reduced sodium targets for schools. This will help keep food items like cheese on school menus, at least until the new permanent rule is established in a few years.

A serving of milk at snack time remains a memorable part of my elementary school experience. Let's keep it that way for generations to come by providing dairy beverage and food options that are nutritious and appealing to young consumers.
---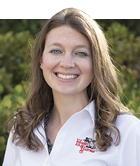 Abby Bauer
The author is the senior associate editor and covers animal health, dairy housing and equipment, and nutrient management. She grew up on a dairy farm near Plymouth, Wis., and previously served as a University of Wisconsin agricultural extension agent. She received a master's degree from North Carolina State University and a bachelor's from the University of Wisconsin-Madison.