In case you haven't seen any old photos of your friends in their FFA jackets this week on social media, let me share with you that this is National FFA Week! It's the time of year when those of us past our high school days break out photos and memories of chapter meetings and banquets, service opportunities, travels, and CDE competitions to encourage current members to learn as much as they can during their time in the organization. Advisors, parents, and other supporters share their enthusiasm to promote what FFA is all about.
This week, members across the country are having spirit days at their schools, participating in service activities, and sharing the FFA story. Every one of my FFA Weeks while I was in high school was marked by a teacher luncheon we put on with our alumni and a fun chapter bonding event like breakfast and bowling. When I served as a state FFA officer, I was able to learn about so many other interesting and exciting events our chapters put on to celebrate this week. Every community has their own way to mark the occasion, but they're all rooted in an appreciation for agricultural education.
FFA fills an important need in our schools and communities as a way for students — whether they come from farms or not — to learn about modern food production, environmental relationships, and agricultural systems in a hands-on, real-world way. No matter where a student's interests lie, agriculture teachers are experts at connecting those passions to agriculture and showing students why the industry matters to them. As farmers are increasingly encouraged to "tell their story," these informed students become an asset for sharing an accurate message about agriculture.

Further, this education comes at a significant time of personal development as students are exploring their interests and skills and considering future careers. In middle school and high school, students are able to learn more about any area of agriculture through their classes, Supervised Agricultural Experiences, awards, competitions, and more. They connect with peers, advisors, coaches, and mentors in the process to better understand themselves and the world around them. They witness leadership in their chapters, events, and communities, and they develop the skills to step up to be a leader, too.
I hope you have had a chance to support FFA this week, whether that's by participating in your local chapter's events, making a donation at a Tractor Supply store, or sharing the value of FFA with your community. If you'd like to show your support year-round, consider joining your alumni and supporters chapter (or starting one), offering to coach a team or chaperone a trip, or hosting an agriculture class for a field trip. There are so many ways to get involved that can all have a positive impact on the future of agriculture across our country.

---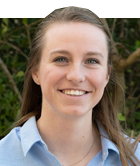 Katelyn Allen joined the Hoard's Dairyman team as the Publications Editor in August 2019 and is now an associate editor. Katelyn is a 2019 graduate of Virginia Tech, where she majored in dairy science and minored in communication. Katelyn grew up on her family's registered Holstein dairy, Glen-Toctin Farm, in Jefferson, Md.