"Rich Strike wins!" These three words rocked the horse racing world to the core two weeks ago. A horse with 80-1 odds of winning, a horse that was bought for far less than the rest, and the horse that wasn't supposed to be a contender beat the world's most renowned and elite horses in one of the most prestigious races in history. He's a horse that had everything against him. They put him in the last position, and he pushed his way to the front to succeed and become "the horse with an 80-1 shot." Sounds a lot like dairy farming, doesn't it?
Dairy farming is a challenging venture that is not for the faint of heart. Between Mother Nature's up-and-down tendencies and regulations from state and federal milk orders, departments of agriculture, and environmental groups, plus many other organizations, it takes a lot to produce and sell a quality product. This is not to mention all of the measures we have to take in order to keep the animals productive and healthy. From nutrition to hoof trimming to milking equipment and barn care, the odds are never in our favor. Each day, we go to work hoping and praying that we are doing all we can to maintain the highest quality of cow comfort in order to produce the best quality milk. Between the regulations and environmental challenges and limitations, 80-1 odds seem low comparatively.

When a cow is sick or a calf is born, the odds of good health for either is limited. The odds of the cow being as productive as she once was become lower and lower each time she is treated or her milk is withheld from the tank. There is only ever a 50-50 chance a calf will make it the first 24 hours of life. A number of things can go wrong, from not getting colostrum quick enough to the mother stepping on it. The odds are never in our favor.
However, like the Farmers Insurance commercial sings, "We are farmers." We persevere even in the worst of times. We adapt, and even though we might hate it, we persevere for the betterment of our herd, our operation, and, ultimately, ourselves. We use technology to streamline some practices, but we hold tight to our roots in case it fails. We beat the odds every day to ensure our herd is taken care of and folks can enjoy a quality glass of milk, an ice cream cone on a hot summer day, shredded cheese on salads and pizzas, yogurt for breakfast, and all of the other products of our toil. Just like Rich Strike, the odds are never, ever in our favor, but we keep going and keep fighting because the odds mean nothing to us. Our passion and heart for what we love beats all odds every time.

---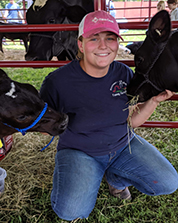 The author is a sixth-generation farmer and fifth-generation dairy producer in southwest Virginia, where she and her family own and operate a 145-head Holstein dairy. Courtney is involved in agriculture organizations throughout her community and is a graduate of Virginia Tech.