Growing up on a farm with four brothers, my sister and I were pretty tough. It just came naturally, and honestly, to this day, we dare you to assume we are weaker because we are women. I don't mean tough in a callous, cold way. Instead, I'm referring to the fact that we could hold our own and tease our brothers right back, we could physically throw bales around just like the rest of them, and overall, we just didn't see ourselves any differently.
When I chose chemical engineering as my college major, I didn't really notice that I was often one of only a handful of females in my classes. It wasn't until graduation when someone mentioned the statistics of our College of Engineering graduating class that I realized just how shockingly few women engineers there were in comparison to men. Still, I never felt inferior or singled out. To me, I guess it wasn't much different than having a bunch of brothers.
When I started my career in the dairy industry, there were far less women than men in manufacturing. I still felt like I fit in. I wasn't always invited to the golf course, but really that probably said more about my golf game (or lack thereof!) than it did about my gender. As my experience in the workplace grew, so did my family. I love my children. I also love my career. It is important to me to be present for my family, but I also desire to keep my foot on the pedal at work. You can do both. I have run into a few instances where an older male may have outdated beliefs (such as that pregnancy is like a disability), but I've been given the opportunity to prove otherwise.

In reflecting on how I've navigated my path so far, I think there are some benefits to being the first or one of the few. It gives you space to find your own strategy and rhythm without having to worry about conforming to the — sometimes arbitrary — habits of those before you. In recent years, though, as my time has had to meet more demands, I have learned that leaning on the wisdom of other women is a shortcut to mastering efficiencies. As they say, don't reinvent the wheel. There are behind-the-scenes details of life that only other women face and understand. My male colleagues fully support me, but that doesn't mean they always 'get it' or, more likely, it may be too personal to openly share with them.
I can validate that "you don't know what you don't know." It's an odd set of words that perfectly describes my relationship with women in ag-type groups. I could get along with my male colleagues just fine, so why did I need anything else? But it turns out that these groups (at least the ones I'm in) aren't rah-rah futile chats. Instead, they gather women who share hacks and strategies that make it possible to meet your goals and keep your priorities. Instead of a cheerleader, I think of them as my cut (wo)man, like a fighter has to prevent and fix injuries. They help eliminate and reduce pain points in my life by sharing their own prior experiences, and I, in turn, do the same for them.
People say, "Find your tribe," and "Don't go it alone," but . . . how? Networking had always been a sort of nebulous term in my mind. So for me, it's been about repeated exposure to other women in agriculture through committees, organized trade groups, and the like. Meeting for an hour or so once a month builds rapport. There is far more value in collaboration than I would have guessed, and I am thankful for its influence. I hope if you are a skeptic like I was, you give it a second thought. It may make a difference in your life, too.

---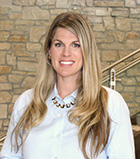 Erin Massey is the product development manager at Prairie Farms, a farmer-owned cooperative based in Edwardsville, Illinois. She is responsible for overseeing all aspects of the development process, from concept to commercialization. Erin grew up on a Florida dairy farm and has a deep-rooted passion to invigorate the dairy industry. Erin earned a bachelor's degree in chemical engineering from the University of South Florida. Her personal mantra is "Be Bold."