Where do you turn when you're looking for information about a business? In today's digital age, most people typically look to either the company's social media presence or website to form their initial opinions. And while many farms might share about their businesses on social media, a website could also be a useful tool to shine a positive light on your family's dairy story.
A website can serve as a landing page for your farm so that all your social media pages, farm history, news, other information, and even online marketing can be easily found in one place. You might think of it as an online billboard. When determining what content you want to include, remain focused on the interests of consumers, advised Sarah Cornelisse of Penn State Extension.
"That value to the public should drive your purpose and website content," Cornelisse wrote in this article discussing best website practices. Consider if your readers will come to your site to learn about the farm, look for jobs, buy products, or another reason, and keep that in mind as you develop the pages and determine how you want your site to operate.
Creating a website may sound challenging, but Cornelisse noted that you can choose a route that best fits your needs. If you are able to and want the greatest control, you or a family member may build the site yourself. On the other hand, hiring a consultant to develop and operate the site may be the best choice to provide support.

A popular option is to use a website-building service, which provides the hosting capabilities and customer service but allows you to customize your layout and features. WordPress, Wix, and Weebly are a few of the most common website builders.
A website might be most useful for a farm that is selling products directly. With an online sales platform, customers can easily shop and place orders even if they cannot visit the farm. Many website building services allow you to incorporate e-commerce into your site, Cornelisse said. If this is the main goal of your site, take the time to make sure you set up the system accurately and that it works with your existing infrastructure.
The most important choice you will make when developing a farm website will be what information to include. Cornelisse described that a website should at least include the business name, a logo, and contact information. You may also want to add a description, history, or photos of the business and news about any projects you are doing that would interest or affect consumers. Links to social media pages or other relevant content is a great way to inform and connect those who visit your site. If you're selling products, include details about the items and how to purchase them.

All this information comes together in your website's appearance. Design is a highly personal choice, Cornelisse recognized, but she advised that the pages must be easy to read, easy to navigate, and enhance the visitor's experience.
If a website could help your farm tell its story better, check out Cornelisse's article for more tips and best practices on areas such as monitoring use and updating the site. Developing a website can be as big or small of a project as you want it to be, she said, and it doesn't have to be fancy to send the message you want to. Align it with your goals to give your business a positive online presence.
---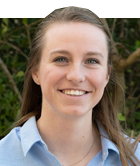 Katelyn Allen joined the Hoard's Dairyman team as the Publications Editor in August 2019 and is now an associate editor. Katelyn is a 2019 graduate of Virginia Tech, where she majored in dairy science and minored in communication. Katelyn grew up on her family's registered Holstein dairy, Glen-Toctin Farm, in Jefferson, Md.