As the "Your Dairy Checkoff" podcast starts its third year featuring farmer hosts, dairy industry guests, and in-depth conversations about dairy products and farming promotion, we want to thank our listeners for tuning in. If you haven't listened to the monthly Your Dairy Checkoff podcast yet, it is a collaboration between national and local checkoff organizations to showcase examples of how dairy promotion programs are working together to build dairy sales and consumption as well as consumer trust in today's changing marketplace to maximize farmers' checkoff investment.
Before we dive into the new year, we wanted to review the top episodes from 2022:
Episode 9 - Dairy Innovation: Who is doing it and how does it work?
California dairy farmer Tyler Ribeiro and New York dairy farmer Emma Andrew-Swarthout chat with Michelle McBride, founder and CEO of GoodSport Nutrition, and Bill Graves, Senior Vice President of Product Research at Dairy Management, Inc., about dairy product innovation. Listen now.
Episode 10 - How Do Exports Impact U.S. Milk Markets?
Mississippi dairy farmer Michael Ferguson and Idaho dairy farmer John Brubaker discuss the importance of exports with Krysta Harden, CEO and President of the U.S. Dairy Export Council. Listen now.
Episode 13 - Remember Got Milk? Where Are Dairy Ads Now?
Virginia's Brittany Jones and New York's Kathryn Bosley talk with Suzanne Fanning of the Dairy Farmers of Wisconsin and Wisconsin Cheese, and Jeff McCrory, Strategy for Mischief USA, about how traditional marketing and advertising have changed in recent years and how they are reaching consumers through channels such as social media, streaming services, gaming, and communities. Listen now.
Episode 16 - Should Farmers Be Worried About The Dairy Case At The Grocery Store?
Indiana dairy farmer Jill Houin and California dairy farm Erin Nutcher chat with Mike Brown, Sr., category manager for Kroger, and Tim Cooley, chief operating officer for American Dairy Association North East, about the present state and future of the dairy case, why milk and alternatives are placed together, and what to do if something doesn't look right at your local grocery store. Listen now.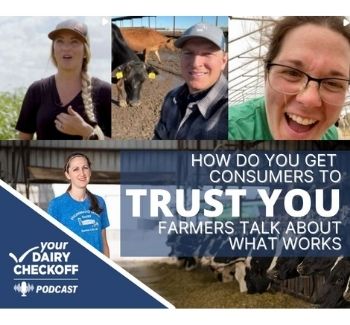 Episode 11 - How do you get consumers to trust you? Farmers talk about what works.
Connecticut dairy farmer Amanda Freund and Washington dairy farmer Austin Allred have a conversation with dairy farmers Tara Vander Dussen (New Mexico) and Melissa Hildebrand Reed (Kansas) about how they share their story with consumers in real-life ways that build trust and sales for dairy. Listen now.
Would you like to be a farmer host or an industry guest on the podcast? If so, just reach out to us through the website or email me at don.schindler@dairy.org. You also can provide feedback on the podcast and potentially win a set of Your Dairy Checkoff podcast ear buds.
Thanks to our listeners and our farmer funders for supporting the "Your Dairy Checkoff" podcast. We look forward to another great year of sharing the dairy promotion story with you.
To learn more about your national and local dairy checkoffs, visit www.USDairy.com or send a request to join our Dairy Checkoff Facebook group.
---
The author is a Senior Vice President of Digital Initiatives at Dairy Management Inc.