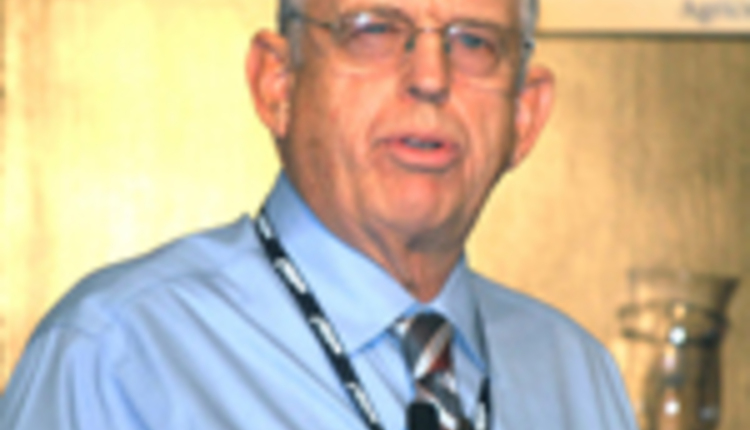 Expensive corn and ever-increasing demand from China and other foreign buyers are expected to keep alfalfa hay from becoming cheap in the West in 2013, according to longtime market expert Seth Hoyt (pictured).
Higher alfalfa carryover stocks this year will help offset a slight decline in total harvested acres that is anticipated in the seven Western states in 2013, he explained earlier this week at the California Alfalfa & Grains Symposium in Sacramento.
Western dairies enter the new year with a renewed appetite for hay that was triggered by sharply higher corn prices this summer that put more hay back into dairy rations. Hoyt expects hay demand will remain strong as long as corn prices stay high.
He also noted that export competition for hay continues to grow, particularly in California and especially from buyers in China and the United Arab Emirates. Both like California hay and have large and growing dairy cow populations to feed, plus ships that would otherwise have empty back hauls to China make for bargain transport costs.
Hoyt said he expects hay prices in California and the West will be close to 2012 levels. As always, though, uncertainty about milk prices and dairy profitability in 2013 are huge wild cards that have potentially game-changing magnitude.
A sharp decline in corn would cut hay demand, while lower milk prices would limit dairies' ability to buy hay at all. In the event of either situation occurring, however, he said foreign demand that steadily continues to grow would help support hay prices.