Slowly but surely, dairy cattle around the world are becoming less fertile. As they do, financial losses to dairies grow in the form of more culling, fewer calves and higher expenses.
Infertility is a slow, insidious drain on dairy income and an invisible increase in operating costs. Both are the result of a national dairy herd that has significantly lower conception rates today than just a few decades ago.
How much lower? A team of scientists at Washington State University, the University of Idaho, and the University of Florida says average conception rate on U.S. dairies in the 1980s was about 50 percent. Today it's about 35 percent. That's a dangerous trend that should scare everyone who milks cows.
Genomics, however, may slow or stop or even reverse that decline. Armed with a $3 million research grant from USDA, the team has started a five-year search for genes in cattle DNA that are associated with fertility.
An early, key part of this process is gathering input from dairy producers in the form of an anonymous online survey that takes about five minutes. It asks what they have heard and think about genomic testing. It can be found at: www.surveymonkey.com/s/6G8L8WS
Dairy producers are also invited to attend focus group sessions on infertility that will be held at World Dairy Expo in Madison, Wis. in October 2013, and at World Ag Expo in Tulare, Calif., in February 2014.
"If we can identify and isolate the multiple genes responsible for fertility, we may be able to tell earlier which cows are going to be fertile – maybe as early as at birth," says animal scientist Tom Spencer, who is a member of the project team at WSU along with Holly Neibergs (pictured above).
---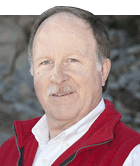 The author has served large Western dairy readers for the past 36 years and manages Hoard's WEST, a publication written specifically for Western herds. He is a graduate of Cal Poly-San Luis Obispo, majored in journalism and is known as a Western dairying specialist.