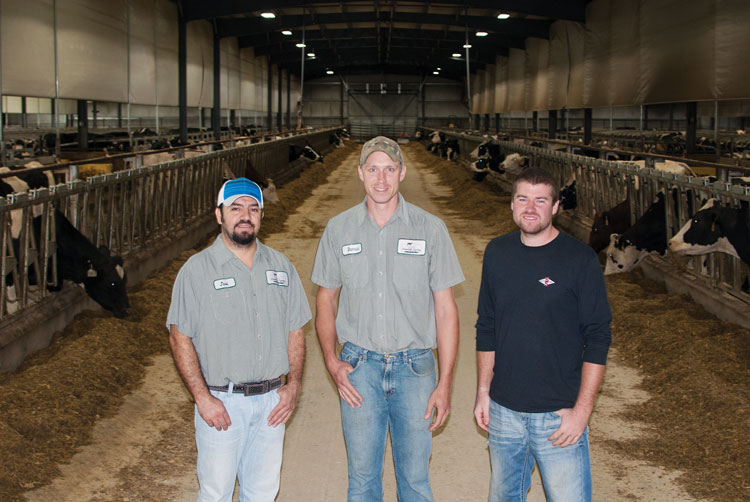 What are the most important metrics that the nation's top herds use to monitor reproduction?
That's the question we poised to the six winning Platinum herds that won the 10th annual Dairy Cattle Reproduction Council's award competition.
"We monitor 21-day pregnancy rate, conception rate, percent of cows pregnant at preg check, and the number of noncycling cows," said Darrin Young of Emerald Spring Dairy in Plainview, Minn. "I look at these numbers weekly," added the dairyman who owns the farm with parents Maurie and Rita Young.
All six of this year's Platinum winners of the Dairy Cattle Reproduction Council's awards share additional insight in this Hoard's Dairyman Intel as well as the Round Table found on pages 695 to 697 of the November issue of Hoard's Dairyman. This year's competition drew the second-largest set of nominations to date from 16 U.S. states, Canada, and Italy.
Here are additional responses to the question, "What metrics are monitored to evaluate reproductive performance?"
Jer-Z-Boyz Ranch, Pixley, Calif.: Our top metrics include: conception rate by stud code and sire, along with technician pregnancy rate . . . all monitored on DC305 using Bredsum options.
Plymouth Dairy, LeMars, Iowa: On a weekly basis, we monitor and post the results for the following:
1. Percent pregnant
2. Percent conception
3. Percent conception of our breeding codes (That includes CIDR ovsynch, ovsynch breed, presynch breed, presynch CIDR, standing heat, and double breed.)
4. Percent conception by sire
5. Percent conception by technician
6. 21-day pregnancy risk
We look at these metrics weekly and also have quarterly repro meetings with farm staff, Genex representatives, nutritionist, veterinarian, and some industry partners to evaluate our results and discuss any ideas or concerns we have.
Rollin Green Dairy, Brooklyn, Wis.: We evaluate these metrics on cows:
1. 21-day pregnancy risk
2. Conception rate by breeding code
3. Service rate
4. Days in milk of entire herd
5. Conception rate by technician
6. Services per conception
7. Repeat interval analysis
8. Culls for reproduction
Heifers:
1. Conception rate
2. Age at first calving
I look at 21-day pregnancy risk, conception rate by breeding code, and conception rate by technician after almost every herd check. I like to analyze real time how each individual herd check is going and immediately address issues that may arise.
As far as the rest of the indicators, they are more of a long-term analysis, and those numbers help us get the overall big picture of how reproduction is going. It was by observing these metrics three years ago that I personally learned that my A.I. technique needed work, and I got retrained as well as had an entire repro audit done by Accelerated Genetics.
Schilling Dairy, Darlington, Wis.: These represent our key metrics:
1. Pregnancy rate — daily
2. Conception rate by breeding sire — weekly
3. Conception rate by technician — weekly
4. Early embryonic death rate —weekly
5. Days in milk to first breeding — weekly
6. Fresh cow starts — monthly
7. Feed intakes — daily (dry matter intakes and refusal weigh-backs)
These metrics are the same for cows and heifers. We also monitor sexed semen versus conventional semen conception rates weekly in the heifers.
Weisenbeck Dairy, Durand, Wis.: For our dairy, the crucial "weapons of mass reproduction" are:
1. Cow comfort
2. Great nutrition
3. Consistency
4. Outstanding A.I. techs
5. Overall attention to detail
6. Teamwork with all parties
This Hoard's Dairyman Intel article is part of a nine-part series detailing top reproduction tips from the Platinum winning herds for the 10th annual Dairy Cattle Reproduction Council awards competition.
Click on the links below to view previous reports from this DCRC series:
They track fresh cow temps for 12 days
How they handle problem-breeding cows
We breed cows one week later, now
We confirm cows pregnant twice
Cowside records are a great tool for us
To comment, email your remarks to intel@hoards.com.
(c) Hoard's Dairyman Intel 2017
December 11, 2017