The author was the 2018 Hoard's Dairyman Editorial Intern and graduated from Utah State University with a degree in agricultural communications and journalism.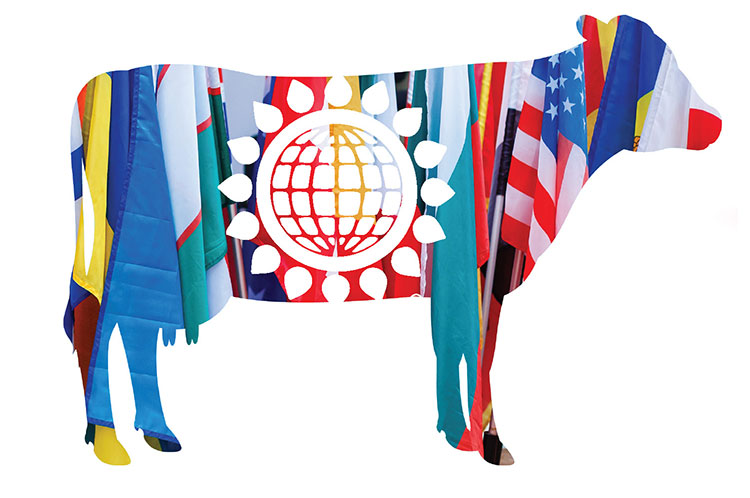 International companies made up 17 percent of the total commercial exhibitors at World Dairy Expo's trade show in 2018. In total, 887 exhibitors participated. While World Dairy Expo continues to have a wait-list of companies wishing to take part, Expo staff say their goal is not to grow the show by number of companies, but to have more effective booths that bring new and innovative products and services.
Many international exhibitors contribute to the wide range of new ideas and technology showcased at the trade show. Dairy Valley Holland from the Netherlands, Waikato Milking Systems based in New Zealand, and Triolet Feeding Technology founded in the Netherlands all see Expo as a great opportunity to share their knowledge, collaborate with industry leaders, and have conversations with dairy farmers.
Connecting businesses
Dairy Valley Holland is a corporation of the Dutch government in the Netherlands. They work heavily in the Northern Netherlands' region, which is home to the Dairy Valley, an area with Holland's largest concentration of dairy farms.
Their business development agency helps Netherland-based dairy companies export their products to the U.S., and vice versa, helping American dairy companies export within Europe. Last year's show marked their first year having a booth at Expo, and they remarked on just how international the event is.
"This, in terms of dairy, is the most important event," said Joep de Vries, the organization's foreign direct-investment adviser. "There are dairy people and companies from all around the world."
The group, which also included Case Dorresteijn, who specializes in business investment, and Casper Rijnsdorp, a Dutch consultant, noted a sense of motivation from the people and farmers in attendance. Even though the dairy industry was not thriving at the moment, they saw people who were still excited for the future of this industry and companies that were still trying to improve it with new innovations.
Dairy Valley Holland explained that perspective to be a part of its company's mission and said the exchange of new ideas goes both ways between farmers and companies.
"We are looking at problems American dairy farmers have to see if our expertise can help," said Rijnsdorp. "In the same sense, we are considering problems in our own dairy industry and researching whether dairy businesses here can help us."
According to the group, their most important task at Expo is talking to American dairy companies of any size who might be looking to venture out of the U.S. and grow their company in the Netherlands or Europe.
Right now, between 10 and 15 Dutch companies have trade show exhibits at Expo. Dairy Valley Holland has a long-term goal of expanding that number. They say the Dutch companies here at Expo already have an American presence, but there are still many small companies back home that would like to share their products and modernizations at Expo.
At their first Expo, Dairy Valley Holland sponsored a happy-hour and a dinner for about 40 American businesses. Next year they plan to come back and do more.
de Vries elaborated, "We would like to hold a seminar, so more farmers can connect with us and we can connect with them."
A lighter parlor
Waikato is a district in New Zealand and is the headquarters for Waikato Milking Systems. They have been in business for over 50 years, selling everything from milking claws to rotary milking equipment. They make 90 percent of their products in New Zealand and have distributed in the U.S. for more than 30 years.
Currently, Waikato offers the only composite rotary of its kind. This unique rotary is made up of a composite base that is 75 percent lighter than other rotaries and was part of their display at last year's World Dairy Expo.
"Every year we try to make the impression to farmers that we have a solution for them when it comes to the way they milk their cows," said David Potter, the North American marketing manager. "Our improvements and changes to rotaries are one way we are doing that."
Waikato has been a part of the trade show for the past 12 years, and they keep coming back because of the exposure and the international reach of Expo.
"More and more people know what Waikato is, but they don't necessarily know our products and services," explained Potter.
Similar to Dairy Valley Holland, Waikato said the international audience has been another reason they like coming to Expo. Visitors from Europe, Asia, and South America visit their booth, shared Potter. Because of this, Waikato invites members of their South American team every year to Expo to help communicate better with international farmers.
Something else they have noticed is that Expo continues to get bigger and better each year.
Waikato has never been in the big exhibition area but has always had their booth in the attached side hall.
"We like being in that room because you can't go in there and not see us," Potter explained.
Waikato's booth space is filled with real-size parlor equipment, so they can give live demos of how their products work.
The conversations Waikato team members engage in have also evolved during their 12 years at Expo.
"We tend to have more quality discussions with people now compared to 10 years ago. People see us year after year and realize we must be serious," said Potter.
Besides the trade show, last year was Waikato's first time being involved in a virtual farm tour at Expo. The tour was of Benthem Brothers farm in Michigan, which has the third composite rotary ever installed in the U.S.
The best place to meet
Trioliet, an almost 70-year-old family business, has been a trade show exhibitor for 18 years at World Dairy Expo. They are a manufacturer of feeding machines and systems for dairy and beef farmers. About 85 percent of their machines are exported to over 45 countries. Trioliet designs and assembles their feeding technology in Oldenzaal (the Netherlands). They, too, find World Dairy Expo to be the one event they can't afford to miss.
"It has become an annual meeting point for many of our dealers and customers," said Hans Lambers, export sales manager. "It is one of the largest dairy shows on the planet and the results our company gets are large as well."
Because they show sizable equipment like mixer wagons, Trioliet began exhibiting in the outdoor trade mall. In the past couple of years, they have also acquired a booth spot inside the Exhibition Hall. This is because Trioliet also manufactures automated and robotic feeding systems and wanted to be able to showcase their robotic technology in the same space as other robotic companies.
While at Expo, Trioliet shared that their goals are to reach out to the international farmers and dealers that use or sell their technology.
"It's the best way to meet people from over 60 different countries in one week," shared Jeroen Meijerink, public relations manager. "We also get to see and feed off of new ideas and technology that dairy farmers and companies bring."
Since 2000, which was Trioliet's first Expo, the company has seen the show get bigger and more professional.
"It truly is the most useful way for us, farmers, and other companies to all come together and collaborate and make the world of dairy better," said Meijerink.
At future Expos, Trioliet wants to host seminars and other gathering events. They have attended seminars at Expo hosted by other companies in the past and see the value in bringing together people with different interests and ideas from all around the world.
This year's show
Expo staff say the 2019 slate of companies will be a balance of current exhibitors with larger booths as well as companies that are new to Expo and bring different products, technology, and innovations for visitors.